Asian Cucumber Salad
Asian Cucumber Salad – this refreshing, simple cucumber salad is a great side dish for any meal.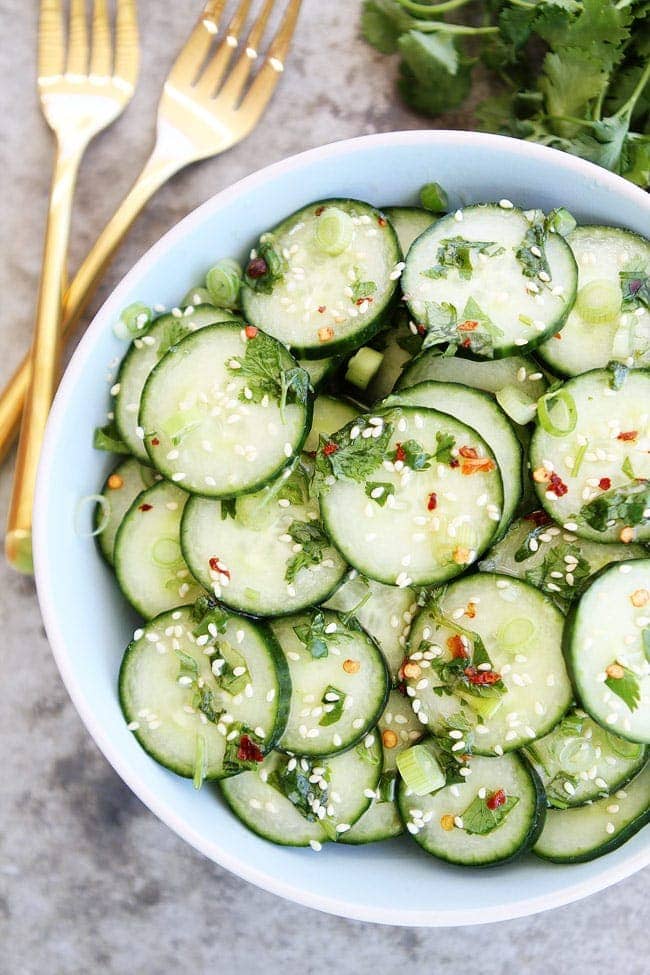 Simple Dishes for the Win – Enter Cucumber Salad
We moved into our new house over the weekend and we are loving it. The only problem, everything is still in boxes. I have no clue where anything is. They are still finishing up some last minute touch ups on the house so I am waiting until they are done to get completely situated. I am a little nervous about decorating, that is not my area of expertise, but hopefully, I can pull it off. I can't wait to sit back, relax, and enjoy our new home.
We have been keeping our meals super simple because we only kept the kitchen basics out of the boxes. We have been eating a lot of salads, watermelon, and sweet corn. Oh, and tostadas for the boys! I have made this Asian Cucumber Salad a few times and I am in love.

OTHER RECIPES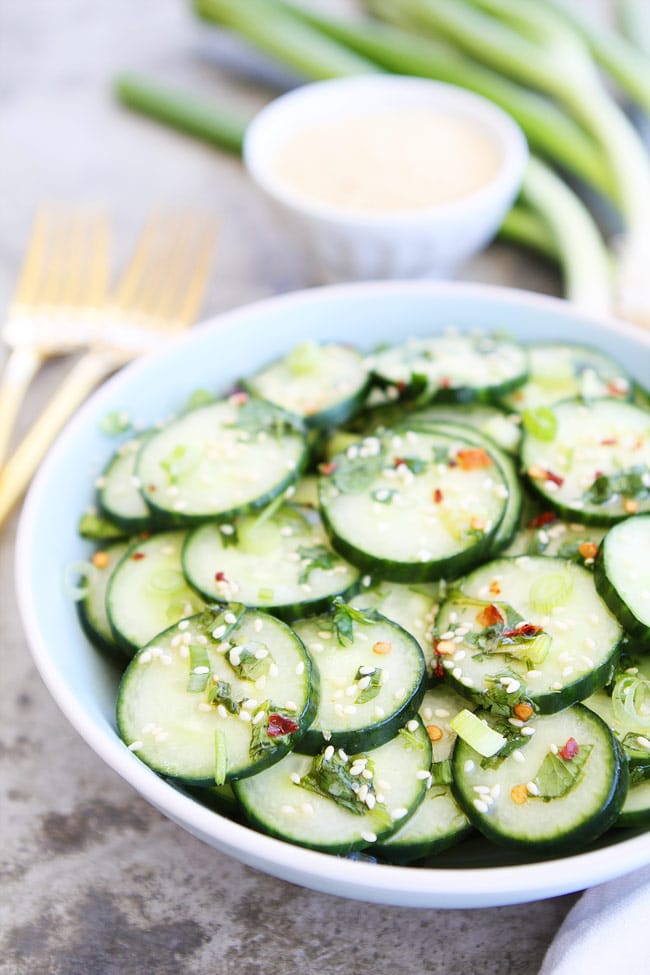 Easy Yet Complex Cucumber Salad
This cucumber salad is perfect for summertime. It is cool, crisp, and so easy! Plus, it will help you use up your garden cucumbers. The salad is simple, but the flavors are not. You will be wowed by one bite!
The Asian flavors are amazing: rice wine vinegar, sesame oil, cilantro, scallions, garlic, ginger, sesame seeds, and a little crushed red pepper for some heat. All of these flavors come together to create one amazing salad. Make this easy and refreshing Asian Cucumber Salad today! It is sure to be a summer favorite!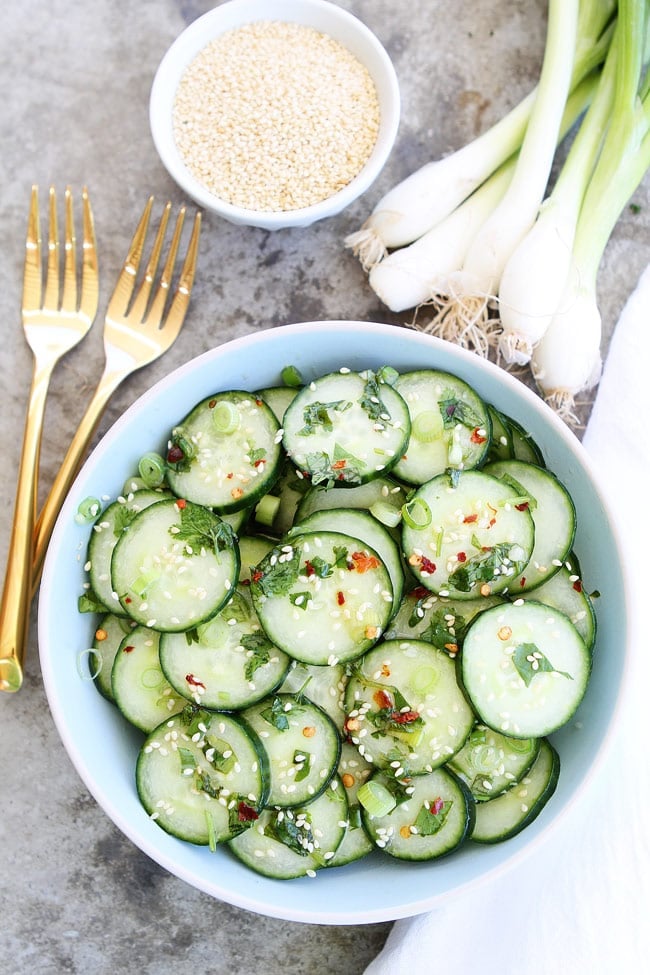 And we will share some house updates as soon as I get those boxes unpacked. Does anyone want to come help? I will pay you in cookies…if I can find my baking sheets and mixer🙂
Asian Cucumber Salad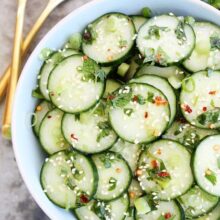 This cool and crisp cucumber salad makes a great side dish to any meal.
Yield: Serves 2-4
Prep Time: 10 minutes
Total Time: 10 minutes
Ingredients:
2 English cucumbers, thinly sliced
Salt, to taste
1/3 cup rice wine vinegar
1/2 teaspoon granulated sugar
2 teaspoons toasted sesame oil
2 tablespoons finely chopped cilantro
2 tablespoons thinly sliced scallions
1 clove garlic, minced
1/8 teaspoon freshly grated ginger
1 tablespoon sesame seeds
Crushed red pepper, to taste
Directions:
Place the sliced cucumbers in a bowl and sprinkle with salt, to taste. Set aside.
In a small bowl, whisk together the rice wine vinegar, granulated sugar, sesame oil, cilantro, scallions, garlic, and ginger. Drizzle the mixture over the cucumbers.
Sprinkle salad with sesame seeds and crushed red pepper, to taste. Serve immediately.
All images and text ©
.
Follow twopeasandpod on Instagram and show us what recipes you are making from our blog! Use the hashtag #twopeasandtheirpod! We want to see what you are making in your kitchen!