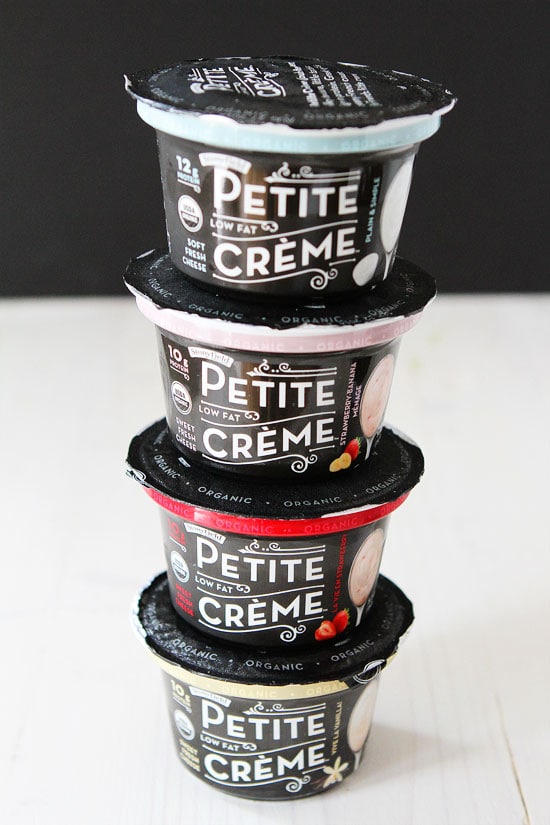 I am excited to share my latest obsession today, Stonyfield's new Petite Crème! Have you tried it? If you haven't, you are missing out! We are Petite Crème crazy at our house! Petite Crème is similar to Greek yogurt, but not as tangy. It is high in protein, low in fat, and super creamy! It is my new favorite snack!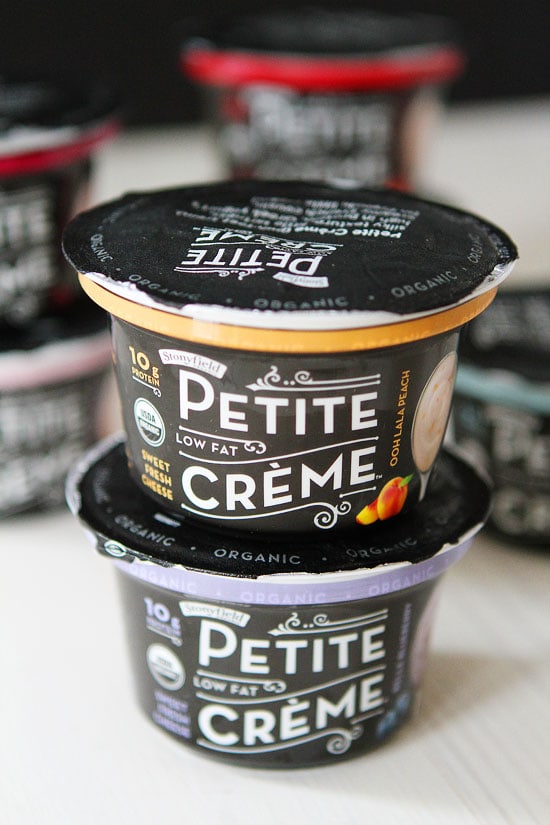 Petite Crème comes in seven delicious flavors: Vive la Vanilla, La Vie en Strawberry, Belle Blueberry, Mon Cherry Amour, Ooh lala Peach, Plain and Simple, and Strawberry-Banana Menage. I said all of those in my sexiest French accent:) Ok, my accent was horrible. I took French in high school, but I guess I should of studied harder:)
I love the names and I love the packaging! So fun! And of course I love the flavors, they are all tasty! I am in love with Greek yogurt's creamy French cousin!
So let's talk about a few of my favorite flavors. I love the Plain and Simple because I am a plain and simple kind of gal! I like eating it plain and using it in my favorite Green Smoothie.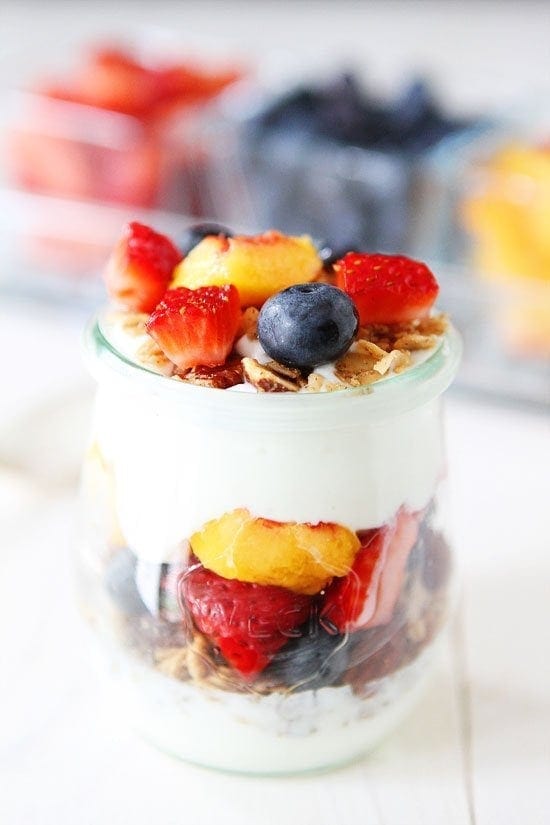 Sometimes I play dress up with the Plain and Simple and make a parfait! I layer the Petite Crème with granola and fresh fruit! I love using my homemade Coconut Granola or Brown Butter Maple Granola. This is one of my favorite snacks! Caleb likes it too!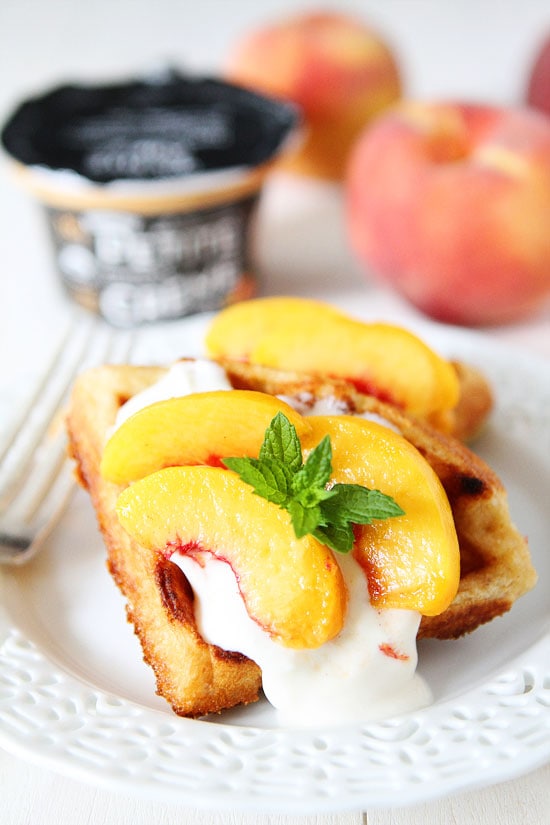 Our peach tree was loaded this year so I have been looking for ways to enjoy our sweet peaches. I topped whole wheat waffles with Petite Crème Ooh lala Peach and fresh peach slices. OOH LALA is right! Talk about a heavenly breakfast treat! Peaches and Creme waffles, YUM! Who needs whipped cream when you have Petite Crème!
Petite Crème is also great on pancakes or stirred into your favorite oatmeal. I think I will top our Baked Peach Almond Oatmeal with Ooh lala Peach next time!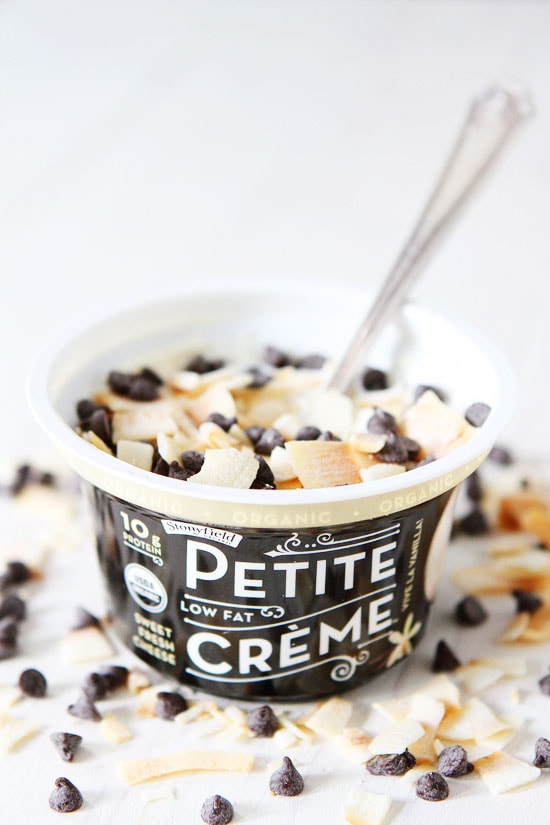 My favorite flavor is the Vive la Vanilla! It is AMAZING! I love the specks of vanilla bean. It is so good that I hide them in the back of the fridge so Caleb doesn't see them. I know, I am a terrible mother, but Caleb loves the Vive la Vanilla too and he tends to hog it if I don't hide it:)
It is fabulous right out of the container, but when I am in an indulgent mood, which is almost always, I like to add toasted coconut and mini chocolate chips to the mix! You HAVE to try this combo! It is to die for!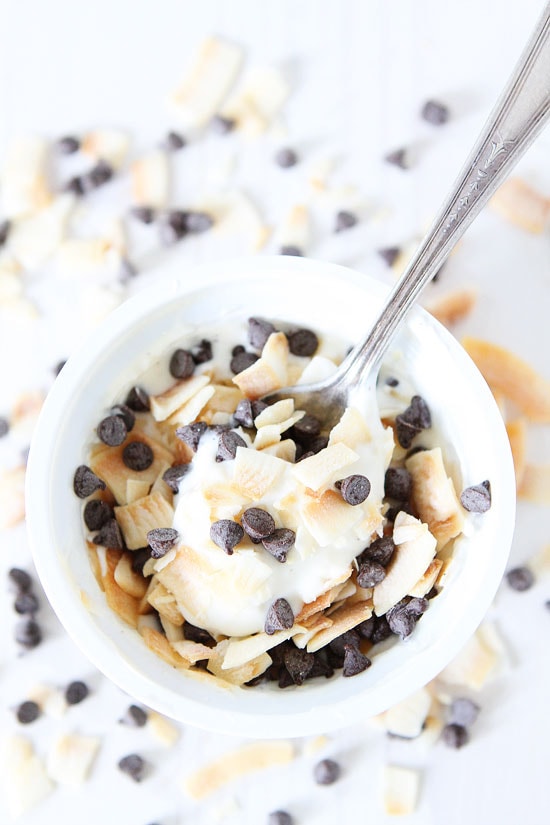 Petite Crème sweet fresh cheese is good any time of the day, for breakfast, snack time, or dessert! It is also great at 2:00 a.m. when you are up feeding a newborn baby. Trust me, I know:) It is a great "on the go" snack or a great sit down and savor every bite kind of snack!
If you are looking for a new snack, make sure you try Stonyfield's Petite Crème. The silky, smooth, and mild sweet fresh cheese will make you feel like you are indulging, but remember Petite Crème's are low in fat and high in protein! You can't beat that! And warning, your French accent might come out after eating a few bites:) Bon Appétit!:)
To find Petite Crème in a store near you, visit Stonyfield's website.
Disclosure-this post is in partnership with Stonyfield, but our opinions are our own.