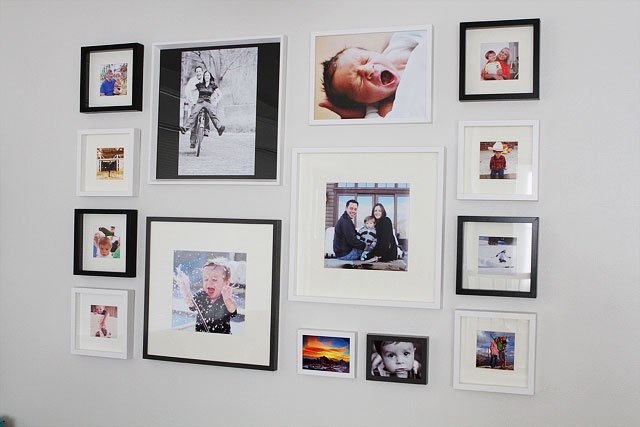 We bought our house soon after we were married, which was a little over 5 years ago. I've wanted a gallery photo wall in our front living room since the day we moved in. I've talked about it for years, but life happened and I never got around to it.
Well, we finally got sick of staring at our blank wall and created our own DIY Gallery Wall! YAY!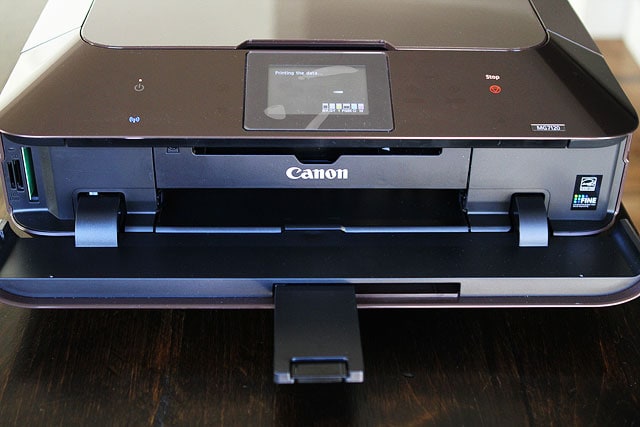 We used our Canon PIXMA MG7120 Wireless Inkjet Photo All-In-One Printer to print most of the photos on our wall. The Canon PIXMA prints beautiful photos, up to 8.5″ x 11″ and sharp documents with amazing quality. It has six individual ink tanks, including gray ink for black & white photos. And if one tank runs out, you don't have to replace them all. You only replace the color tank that runs out. Nice, huh?
The printer is very easy to use. We didn't have to spend hours setting it up. We pulled it out of the box, plugged it in, and we were ready to go! The paper is easy to insert, it prints pictures quickly, and it is quiet too!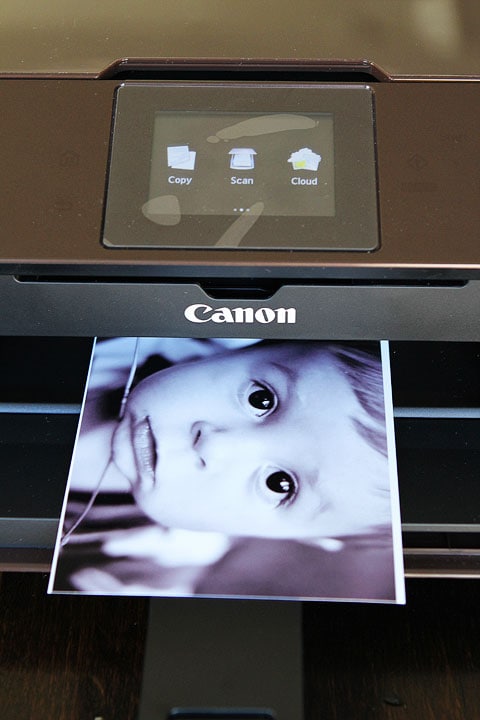 One of our favorite features is that we can print photos straight from our iPhones. We take A LOT of pictures with our phones so it's nice to be able to print them without sending them to our computer first. The PIXMA Printing Solutions (PPS) app easily lets you print and scan photos or documents from your mobile device. With the cloud printing function you can print directly from select online cloud services either at the printer itself or with your mobile device using the free PPS app.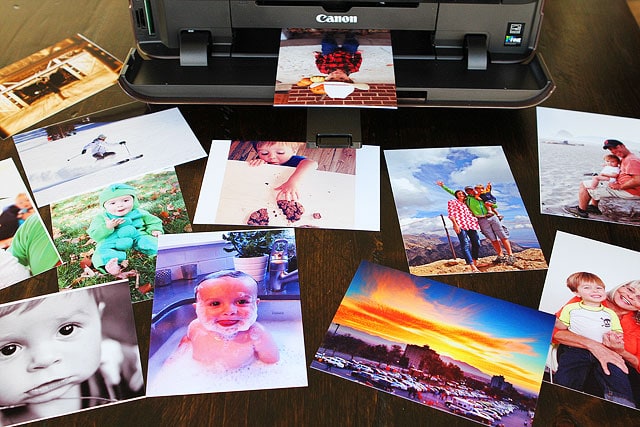 We printed lots and lots of pictures. We couldn't decide which photos were "wall worthy." We liked them all!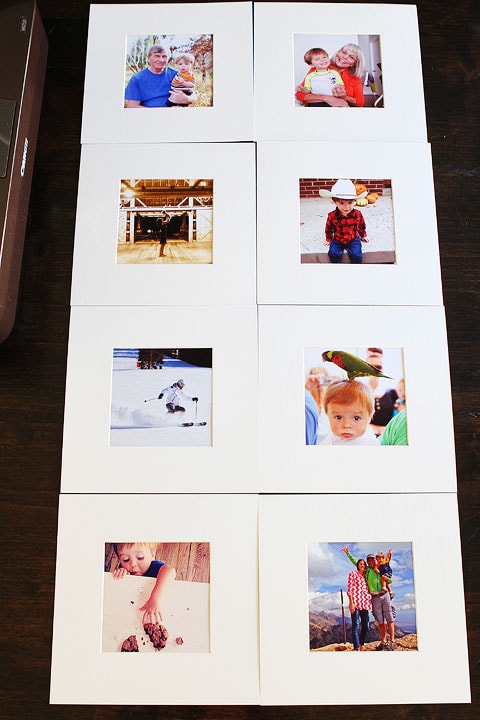 We finally narrowed it down and put the photos in matted frames from IKEA. I love the photos we decided on, but if we ever want to change the photos, we can easily print new photos at home with our Canon PIXMA printer! We take a lot of pictures so it will be fun to mix up our gallery wall on a regular basis!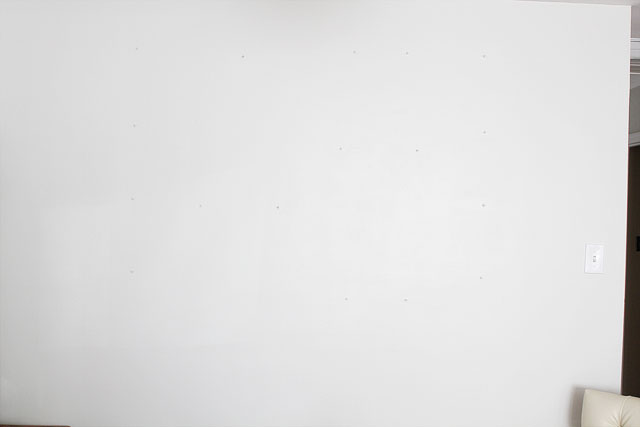 This is what our wall looked like before! BORING, I know! I can't believe we stared at a blank wall for over five years!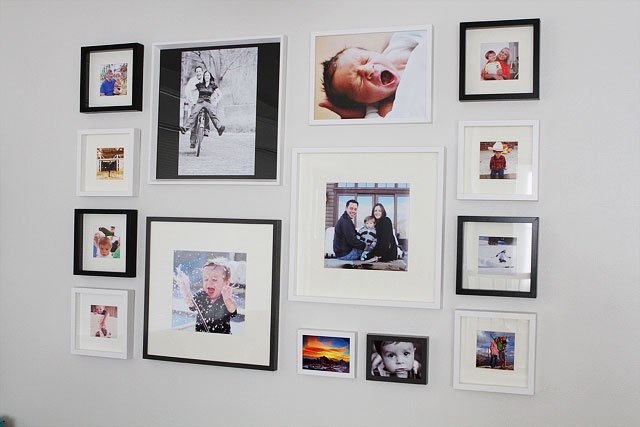 This is our wall now! SO much better! Josh strategically hung all of the frames. I am so glad he has patience for these kinds of projects, because I don't:) He measured everything out on paper and we laid the frames down on our rug to make sure we liked the layout.
We had four larger photos printed at a local photo store and surrounded them with the smaller photos we printed at home. I love the mix of black and white frames.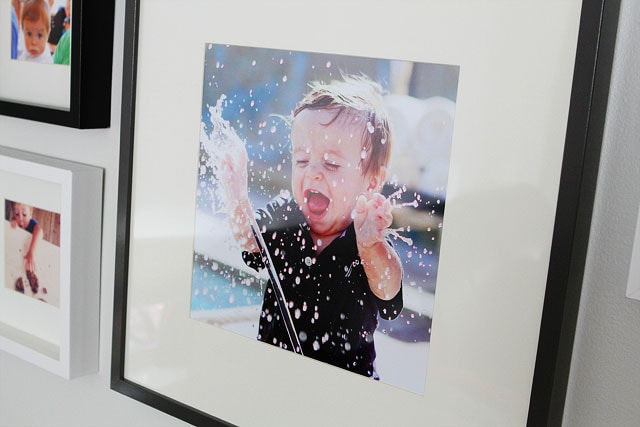 I love this one of Caleb splashing in the water.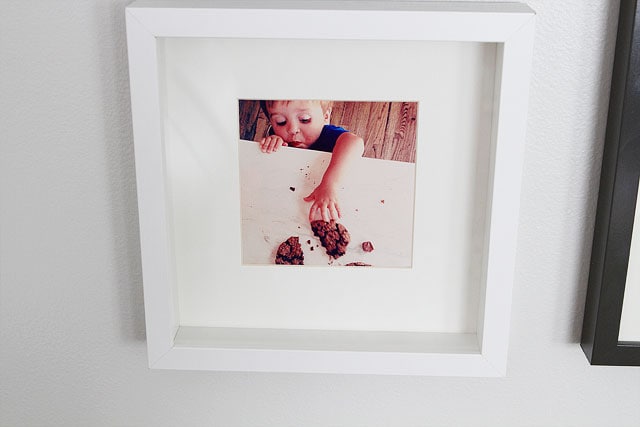 And the photo of him stealing a cookie is classic. Our little cookie monster!
I love walking into our living room and seeing all of our fun photos! Our DIY gallery wall turned out great!
And now for some good news, we are giving away a Canon PIXMA MG7120 Wireless Inkjet Photo All-In-One Printer! Yahoo! We loved using our printer to create our gallery wall. I can't wait to use it for future projects. I know it is going to get a workout this holiday season.
To enter to win a Canon PIXMA Printer, use the PromoSimple Widget below! Good luck!
Disclosure: Presented by Canon PIXMA Wireless All-in-One Printers. PIXMA Printing Solutions (PPS) lets you print photos or documents directly from select popular online Cloud services. This giveaway is sponsored by Canon, but all of our opinions are our own.