Enter to win a fun giveaway from Earlywood Designs!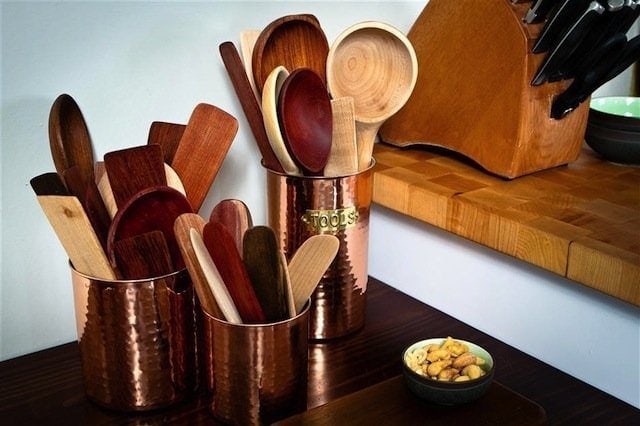 We teamed up with Earlywood Designs for a fun giveaway! I stumbled upon Earlywood's site about a year ago and fell in love! I love wooden kitchen utensils are Earlywood's are the best! I know you will love them too!
Earlywood's mission has always been to offer a selection of heirloom-quality wooden kitchen utensils that are both highly-functional and beautiful. They make a variety of wooden kitchen utensils: spoons, spatulas, scrapers,  and cutting boards. 
The wood they use is it beautiful, strong and long-lasting…and a renewable natural resource. Earlywood Designs is committed to a 100-1 reforestation program. For every one tree they use in the manufacturing of their products, they plant 100 seedlings in the Atlantic rain forest of Brazil. Cool, huh? 
They use a few different types of wood: bloodwood, jatoba, ironwood, hard maple, and Mexican ebony. I love them all!
And now for the giveaway details. One lucky winner will win the following:
Medium Classic Ladle

Long Server

Coffee Scoop

Large Flat Saute

Medium Flat Saute

Small Flat Saute

Tera Scraper

Giga Scraper

Large Spreader Set

Small Spreader Set

Mini Ironwood Cutting Board Set

Earlywood Oil
This is $248 worth or Earlywood products and will style out any kitchen!
To enter to win, please use the PromoSimple Widget below. Good luck!
Disclosure-this giveaway is being provided by Earlywood Designs, but our opinions are our own. Photos courtesy of Earlywood.