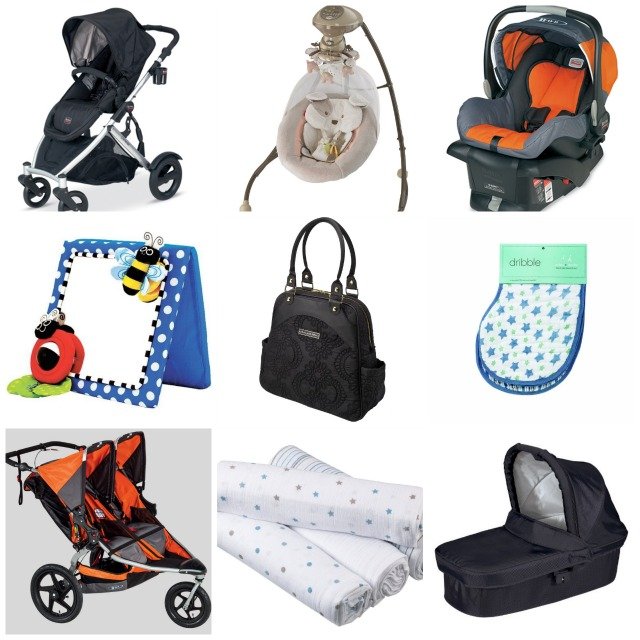 We have been living in babyland for the past month. Babyland is a good place to be, a tired place, but still good:) The snuggles make up for the long nights!
We have received several emails from our readers asking about our favorite baby products, so today we are sharing 15 of our very favorite baby items! We also teamed up with BRITAX for a special BOB B-Safe Infant Car Seat Giveaway. Yay!
Before we get to the giveaway, let's talk about our Favorite Baby Items. We love and use all of these! If you are expecting or have a baby shower gift to buy, we hope you find this post helpful!
1. Britax B-Ready Stroller-this is our favorite every day stroller. We love using it to walk to the park or grocery store. It has a reversible seat that allows your baby to face forward or face you. It also has a 5-point harness system, a front swivel seat, and the dual rear brakes are foot-activated, which makes parking easy. It turns into a travel system and has an adjustable handle and leg rest. It folds up easy too!
2. BOB B-Safe Infant Car Seat-we love this car seat because it is lightweight and easily installs into our van. The adjustable Base has five positions for proper seat angle and positioning. It also fits into our B-Ready Stroller and BOB Stroller. I love the orange color too:)
3. BOB Revolution SE Duallie Stroller-we love this stroller because we can take both of our boys for walks and runs. Maxwell's car seat fits right in and Caleb loves sitting beside his brother. He has a special tray so he can have snacks and a drink while we exercise. The stroller is lightweight and agile. It also folds up easy and isn't too bulky! It has plenty of storage underneath too! And I love that it matches our car seat:)
4. Britax B-Ready Stroller Bassinet-we love putting the bassinet in the stroller when we are going for walks and the baby is sleeping! Maxwell loves stretching out! I also love using it when I am in the kitchen and he is sleeping. I push the stroller in the kitchen and he can sleep while I bake! It is easy to put in and take out!
5. Sound Machine-Caleb uses a sound machine and so we tried it with Maxwell and he loves it too! If you come to our house you will think we live right by the ocean:) The sound machine soothes our boys and helps them sleep! Fine by me!
6. Aden + Anais Muslin Swaddle Blankets-we are huge swaddling fans and these blankets are our favorite. I think we have a dozen of them!
7. Baby Swing-both of our boys love to swing and I love it too because I can put Maxwell in the swing and get some baking done:)
8. My Breast Friend Nursing Pillow-my breast friend is really my best friend while nursing! 🙂 I don't nurse without it!
9. HPA Lanolin-a MUST for the early weeks of breastfeeding.
10. Petunia Pickle Bottom Satchel Diaper Bag-I love this diaper bag because it doesn't look like a diaper bag! It is stylish! Plus, it has plenty of room, lots of pockets, and is a backpack too!
11. Petunia Pickle Bottom Nursing Cover-I love this nursing cover for when I am out and about, you never know when the baby will get hungry! I love that is folds up into a compact pocket too!
12. Onesies-there are lots of cute baby clothes out there and I am always tempted to buy them all, but then I remember how great plain old onesies are! Maxwell has been living in onesies!
13. Diapers-diapers had to make the list because we deal with a lot of diapers!
14. Burp Cloths-these burp cloths are my favorite. I try to have one on my shoulder after every feeding so my shoulder doesn't get soaked with spit up:)
15. Floor Mirror-play time is important for babies and Caleb and Maxwell love this simple floor toy. Maybe our boys are vain? 🙂
And now for a great giveaway from BRITAX. Enter to win a BOB B-SAFE Infant Car Seat. It is our favorite car seat! To enter, use the PromoSimple Widget below. Good luck!
Disclosure-the car seat giveaway is being provided by BRITAX, but our opinions are our own. This post also contains affiliate links.