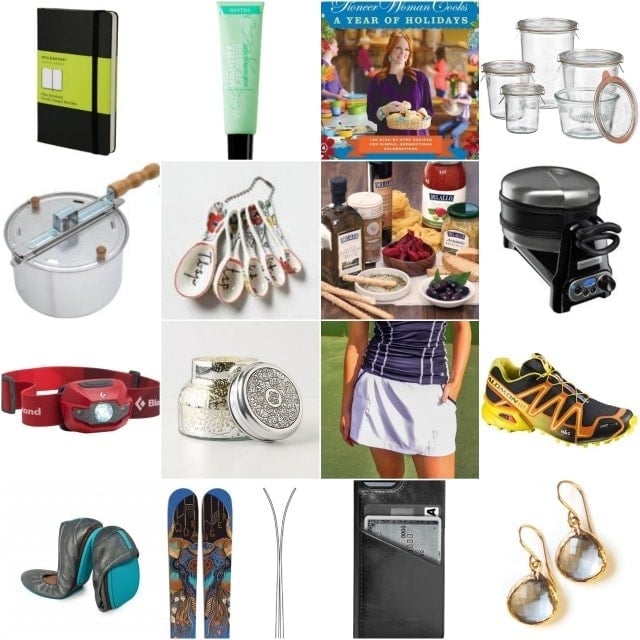 Have you started your holiday shopping? If you are procrastinating, like us, and haven't started, don't worry there is still time! The clock is ticking, but we are confident you will get your shopping done before the 25th. And we are here to help! Today we are sharing holiday gift ideas! Josh and I picked out our favorite gift ideas to help you find the perfect gift for everyone on your list! We've got gift ideas for males and females!
Get out your list and take some notes! It's time to get down to business!
His
1. Wubanger Skis. If you are a skier, you have to try a pair of these custom skis by Wubanger.
2. Shark Rocket Vacuum. Our vacuum recently broke and we replaced it with this dream machine. I know a vacuum cleaner doesn't seem like an awesome gift to give, but trust me, this vacuum is awesome! It is so light and sucks up everything. You can use it on carpet and hardwood floors.
3. Salomon Speedcross 3 CS Running Shoes. The perfect shoe for hiking and trail running. I really like the color scheme too.
4. Lugano Wallet Phone Case. Sena makes stylish phone cases for men. I love the pocket so I can keep my ID and credit card handy.
5. Oakley Airwave 1.5 Goggles are number one on my list. I love technology and skiing and these are a great mix of the two.
6. Stadium Wall Art. I went to the U of U and I am a huge Utes fan. I would love this picture for my office. I am sure you can find similar art for your favorite college or stadium.
7. ChromaPop Sunglasses. You can never have too many pairs of sunglasses. Especially when you have a 2 year old who likes to break them.
8. Headlamp. A Headlamp is not a want, it is a necessity. I use mine all of the time.
9. Event tickets. What guy wouldn't want tickets to a sporting event, concert, or movie? Always a good idea.
10. Whirley Pop Stovetop Popcorn Popcorn. I use this pan all of the time to make Kettle Corn. Every kitchen needs one!
Hers
1. KitchenAid Pro Line Waffle Baker. The BEST waffle baker EVER! You can make two waffles at once and they come out perfect every time!
2. Tieks. I don't have a pair, but I want one soooooo bad! Look at all of the colors! I need them all. A woman can never have to many shoes.
3. Volcano candle from Anthropolgie. Smells so good and makes a great hostess gift.
4. Katie Waltman Jewelry. Jewelry is always a good gift idea and Katie Waltman's jewelry is my favorite. A few favorites include this necklace, this bracelet, and these earrings!
5. Cookbooks and Magazine Subscriptions. I have too many favorites so I can't list them all, but here are a couple must haves! Cookbooks: The Pioneer Woman Cooks: A Year of Holidays, Bountiful, Plenty, and Giada's Feel Good Food. Magazines: Fine Cooking, Donna Hay, and Martha Stewart Living.
6. Weck Jars. My favorite jars. I use them for everything. Think ahead and make a homemade treat to fill the jars and then give them away. A few ideas: Salted Caramel Sauce, Coconut Granola, or Chocolate Coconut Chex Mix. And stay tuned, because we might have a Weck Jars giveaway on our blog soon:) Hint, Hint!
7. Albion Fit Wrap Fitness Skirt. I have a couple of these skirts and they are my favorite! I love the shorts underneath and the pockets! They are great for running, tennis, or any kind of workout!
8. Wooden Utensils from Earlywood. Each piece is handcrafted by Brad who resides in Red Lodge, Montana. Love the long servers and ladles.
9. DeLallo Gift Baskets. Everyone likes food and you can't go wrong with DeLallo's gourmet food gifts! They have a great selection to choose from. There is something for everyone on your list! And trust me, their products are the BEST! I love everything! The hardest part is choosing which one to give…and you might one to order a few for yourself:)
10. Netflix. Yes, you can give Netflix as a gift! We LOVE watching Netflix. I couldn't live without it! There are so many great shows and movies for adults and kiddos!
11. Stocking Stuffers! Sometimes the fun little stocking stuffers are the best gifts. Here are a few of my favorites: nail polish, measuring spoons, Biscoff Spread, Moleskine Notebook, Silpat, Microplane, Paper Straws, dish towels, and lip gloss. Oh, and my dad always puts an orange in our stockings and a letter. The best part of Christmas!
We hope these ideas help you tackle your Christmas gift giving list! Happy Holidays!
This is not a sponsored post, we are just sharing our favorite things! There are some affiliate links.