Holiday Gift Guide 2014-the best gift ideas for him, her, baby, and kids! Happy Holidays!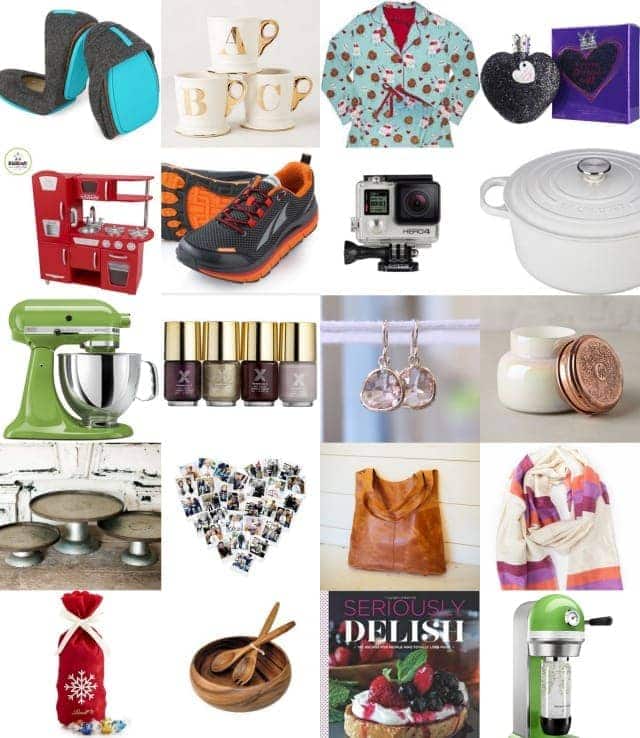 The holidays are here! Are you looking for gift ideas for your loved ones? Or maybe you need ideas for Santa! Have you been a good girl or boy? 🙂 We are sharing our favorite gift ideas today! We have ideas for him, her, baby, and kids! Each item has a link to purchase, so you can get your shopping done right now from your home! You don't have to fight the crowds! Yay!
We hope our Holiday Gift Guide 2014 helps you tackle that shopping or wish list! Happy Holidays!
His
Otter Box iPhone Wallet Case-my favorite phone case. I love that it is a wallet too.
Altra Running Shoes-I have been eyeing these shoes for awhile. Hint, Hint, Santa!
Bluetooth Speaker-love this speaker for listening to music and podcasts.
Backpack-perfect for outdoor adventures! This is at the top of my list this year!
Socks-I love a good pair of socks and SmartWool are the best!
Wubanger Skis-love these custom skis! Perfect Christmas gift for the skier on your list.
Sweater-you can't go wrong with the good old Christmas sweater! No crazy designs for me though!
Leatherman-a great gift for any dude on your list!
Million Dollar Arm-we recently watched this movie and I loved it. A great movie to watch with the family!
Headlamp-everyone needs a good headlamp!
Pizza Pan-I love making pizza and this is my favorite pan to get a crispy crust!
Water Bottle-the only water bottle I use!
GoPro-I really want a GoPro! Perfect for catching all of life's adventures!
Briefcase/Bag-great for travel and going to work!
Cologne-Maria likes THE ONE so I guess I like it too! 🙂
Hers
Milk and Cookies Pajamas-these pj's were obviously made for me:) I hope you like them too!
Wood Salad Bowl with Salad Servers from Pacific Merchants-such a pretty salad bowl and a great gift for everyone!
Earrings from Katie Waltman-I love them all! You can't go wrong!
Kindle-I really want a Kindle so I can read while I nurse Maxwell. Great for travel too! I hope Santa is listening:)
Greystone Tieks-Tieks are my all-time favorite flats and I am in LOVE with the new Greystone Tieks! All of the other colors would make a great gift too!
Chocolate Peppermint Snap Cookies from DeLallo-I was going to give these cookies as a gift, but we opened them and ate the whole tin! Oops! They are so good! I better order some more:)
Cookbooks-a few of my favorite cookbooks that came out this year include: Seriously Delish, The Skinnytaste Cookbook, Plenty More, Make It Ahead, Homemade Decadence, and Baking Chez Moi. All of these would make great gifts!
Nail Polish-love this set! Fun colors for winter!
Go Long Leggings from Albion Fit-love these leggings! I have the blue and black leggings and live in them! My favorite!
KitchenAid Sparkling Beverage Maker by SodaStream-I use this every day to make sparkling water! It's so easy and fun! The machine comes in fun colors too! Of course, we have green:)
Everyday Tote-love this bag!
KitchenAid Stand Mixer-everyone needs a KitchenAid Stand Mixer! I love my Green Apple Mixer…perfect for the peas!
KitchenAid Flex Edge Beater-use this beater all of the time! I love that it scrapes the side of the bowl!
Tinwork Cake Stand-love this rustic cake stand! Great for all kinds of sweet treats or even savory little bites!
Lollia Wish Shea Butter Handcreme-perfect purse size and a great stocking stuffer!
Le Creuset French Oven-I love the new Cotton Matte French Oven! It is so purty!
Heart Snap Shot Frame from Minted-pick out your favorite photos and make a heart collage! Great gift for loved ones!
FashionABLE Scarves-love all of these scarves, plus every purchase helps create sustainable business in Africa! I love a gift that helps give back!
Salted Chocolate Chip Cookie Mix from Not Without Salt-Ashley makes amazing cookies and now you can too! All you have to do is add butter and an egg to the mix! Love the packaging too!
Hunter Rain Boots-love these boots! Great for cold weather!
Spiralizer-turn your veggies into noodles with this fun kitchen gadget. It is all the rage!
Lip Gloss-love the shine, shimmer, and moisture of this lip gloss! It makes a great stocking stuffer!
Golden Monogram Mugs-great gift for the coffee, tea, and hot cocoa drinkers on your list! I love the gold!
Theo Gourmet Holiday Chocolate Bars-you can't go wrong with chocolate! Love these holiday bars-the chocolate and the packaging!
Lindor Chocolate Truffles-you can't go wrong with an assortment of chocolate truffles either! These come in a cute bag so you don't even have to get out the wrapping paper!
Capri Blue Candle-my favorite candle and it makes a great housewarming gift!
Perfume-currently loving Vera Wang Princess Night and DKNY Be Delicious.
Whisk Necklace-a fun necklace for the cook or baker on your list!
Baby and Kids
Blankets-love this Cable Knit Blanket and this Dream Blanket. Both are super soft and perfect for snuggling a little baby!
Baby Einstein Play Along Tunes-Caleb loved this toy and so does Maxwell!
Pajamas for Baby-love these footed pj's!
Sassy Floor Mirror-Maxwell loves his mirror!
Socks for Baby-these socks actually stay on Maxwell's little feet! Love them!
Sophie the Giraffe-every baby needs Sophie!
The CUTEST handmade baby shoes for boys and girls!
Books-Caleb loves Little Blue Truck, Dear Zoo, and Giraffe's Can't Dance!
PlanetBox-I use this lunch box to pack Caleb's preschool lunches! I might love it more than he does. I have way too much fun packing his lunches! 🙂
Super Hero Action Figures-Caleb LOVES all of his Super Hero action figures! They are his favorite!
Engraved Wooden Toddler Spoons from Earlywood-the cutest little spoons and you can have them personalized!
Strider Balance Bike-the best bike for kids to learn on!
Play Kitchen-love this red retro kitchen for kids!
Lincoln Logs-an oldie but goodie!
How to Train Your Dragon 2-a fun movie for the kiddos!
Skip Hop Backpack-Caleb loves the monkey one!
This post contains some affiliate links, but is not sponsored. We are just sharing the items we love!