Enter to win a fun giveaway for foodies from Minted!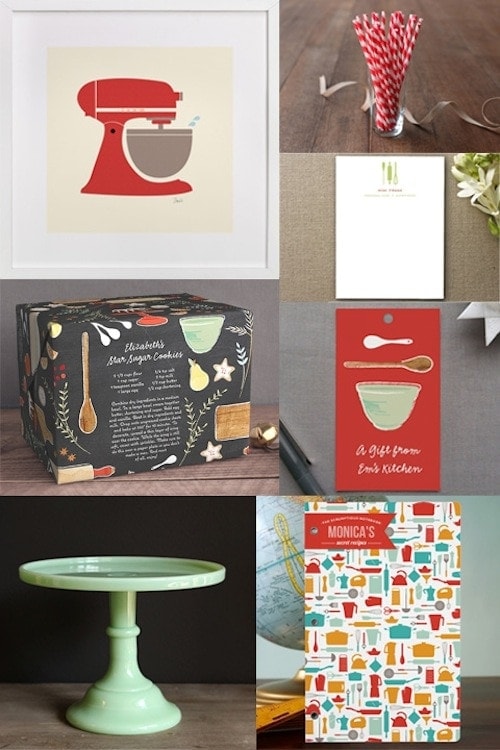 Today we teamed up with our friends at Minted for a fun giveaway. Are you familiar with Minted? If not, you should be! Minted is one of my favorite sites. They have the best cards, stationery, invitations, journals, prints, and more. I love Minted's fresh designs and I love how their products are customizable.
Today we are doing a fun giveaway for the foodie! If you like to spend time in the kitchen, this is the gift for you! I've picked out a few of my favorite kitchen related products from Minted and one lucky reader will them ALL!
1.1 16"x16" Framed Vintage Kitchen Mixer Art Print-my mixer is my best friend in the kitchen and I love this vintage print!
2. 15 Sheets of Customizable Recipe Wrapping Paper-you can add photos, text, and this version is perfect for sharing holiday recipes. I can't wait to put my cookie recipes on wrapping paper. So cool!
3. Milk Glass Cake Plate-this Milk Glass Cake Plate has been on my wish list for a long time! It is so purty!
4. 24 Red & White Paper Straws-you can never have too many paper straws! And these are perfect for the holidays!
5. 15 Pieces of Customizable Stationery-I love this personalized stationery. Perfect for jotting down notes in the kitchen or writing letters to friends!
6. 15 Customizable Matching Gift Tags-these gift tags are perfect for giving away all of your delicious homemade goodies!
7. 1 Food Journal-I love keeping my journal in the kitchen so I can write down my secret recipes. I guess my recipes aren't secrets though because I share them with all of you:)
To enter to win this fabulous Minted giveaway, use the PromoSimple widget below. Good luck!
This giveaway is being provided by Minted, but our opinions are our own.