Happy Friday! I have today and Monday off. It is going to be a fabulous weekend!
I am a huge fan of Tina's blog Carrots N' Cake. Hopefully some of you saw my guest post about controlling portion sizes. Tina recently started working for NuVal; that is how I heard about their nutritional scoring system.  If you haven't heard about NuVal, here is a brief overview.
Making better food choices can be confusing and time-consuming. The NuVal System helps you see, at a glance, the nutritional value of the food you buy. Foods are scored on a scale from 1-100. The higher the NuVal Score, the better the nutrition. It's that simple. For example, blueberries score 100 while Cheetos only score a 5.
The NuVal System considers more than the nutrition label. NuVal also looks at 30 nutrients when developing a score – including carbohydrates, protein, fat, fiber, vitamins, minerals and antioxidants. It accounts for how these nutrients influence health outcomes. This information is used to create a number that consumers can understand and use to make wiser food choices.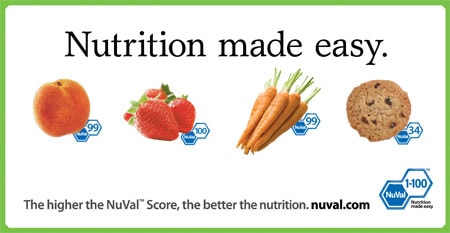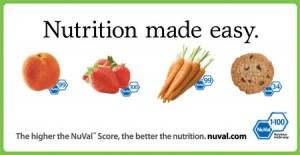 Scores are displayed on grocery shelf price tags, so you can compare overall nutrition the same way you compare prices. I love this idea. When you are in the bread aisle at the store, NuVal can help you choose the most nutritious bread without much thought. You just look at the numbers on the tag and put the bread with the highest score in your cart. You don't have to stand in the aisle comparing labels for hours. NuVal makes purchasing healthy food much easier.
Unfortunately, Nuval scoring isn't in all grocery stores yet. To see if a store near you uses NuVal, click here. I hope they will come to Utah soon:) If NuVal scores aren't in your favorite store, don't worry. You can view scores on their website and plan your grocery list before going to the store.
NuVal scores are very helpful at home too. You can use the scores to "trade up" to better food choices. For example, instead of eating Capn' Crunch for breakfast (score of 5) you can eat Shredded Wheat N Bran (score of 91). I just learned that Eden's Pinto Beans score a 100 so I am going to incorporate them into my meals more often. They don't have scores for everything yet, but they are working on it. There are a lot of foods out there:)
NuVal makes it easier to make the healthy choice the easy choice. For more information about NuVal-go to these sites:
NuValTrading Up Downtown
Carrots N' Cake
A Better Bag of Groceries
Here are a few of my recipes that score well with NuVal:
Roasted Sweet Potatoes with Agave Nectar and Fresh Rosemary (Sweet Potatoes-96)
Mushroom Barley Soup (Mushrooms-96, Barley-91)
Spinach Salad with Oranges, Pomegranate, and Almonds (Spinach-76, Oranges-100, Pomegranate-91, Almonds-82)
Green Beans with Lemon and Shallots (Green Beans-100)
Black Bean, Avocado, Mango Salad (Black Beans-53, Avocado-89, Mango-93, Tomato-96, Red Onion-93)
**For those of you participating in the 10 in 10 Challenge-how is it going? I hope this NuVal information was helpful! Remember to look at your goals often and reevaluate if you need to.
I had a good week. I enjoyed my workouts and made sure I incorporated more protein into my diet.  I still need to work on getting enough calories and fat. It takes a lot of food to gain weight, but I am working on it!**