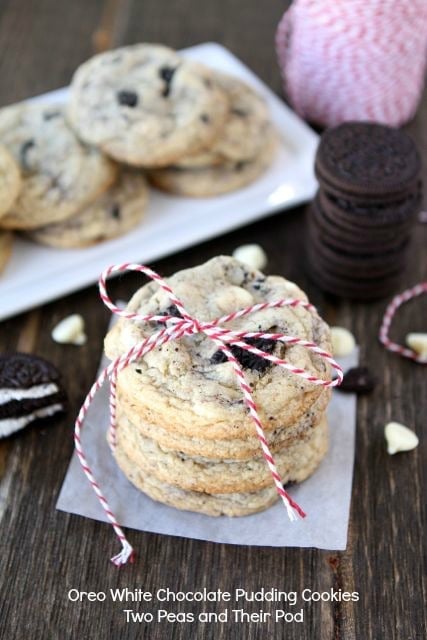 Cookies are always on my brain. I think about new cookie creations during the day and dream about cookies at night. It is an obsession, an obsession I love. Cookies make me happy and I love sharing my cookie recipes with the world. I hope you are not tired of my cookie recipes because I just created another new cookie recipe that needs to be shared. 5 words-Oreo White Chocolate Pudding Cookies.
I came up with these Oreo White Chocolate Pudding Cookies when Josh brought home a bag of Oreos. He claimed they were on sale:) I told him to save some Oreos for me because I had a new cookie recipe to make.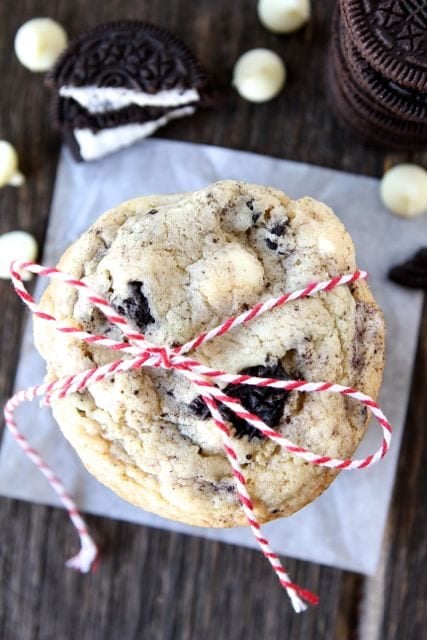 If you read our blog on a regular basis, you know I love adding pudding mix to cookies. Hopefully, you have tried my Vanilla Pudding Chocolate Chip Cookies, Banana Pudding Cookies, Chocolate Pudding Cookies and Butterscotch Pudding Triple Chip Cookies. See, I told you I have a cookie obsession and that is just a small glimpse at my obsession:) Adding pudding to the cookie dough is magic. It creates the softest cookie of all time. The cookies stay soft for days and days.
I used white chocolate pudding this time around. I added in chopped up Oreos and white chocolate chips to bring out the white chocolate flavor. I had high hopes for these cookies and they did not disappoint. I know I have a lot of favorite cookies, but these should be added to the "Cookie Hall of Fame" for sure. We took some cookies to our neighbors and they said these are the best cookies they have ever tasted.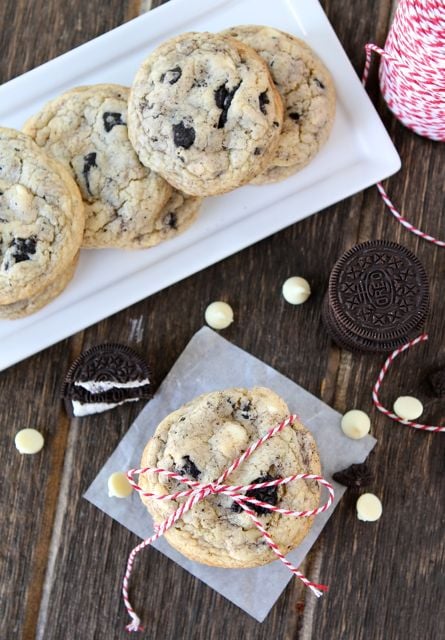 So maybe I am cookie crazy, but I am ok with that. Thanks to my cookie crazy mind, you now have an amazing Oreo White Chocolate Pudding Cookie recipe. Make a batch for your holiday cookie platter. I guarantee they will be gone in no time! And you can make these cookies a few days in advance. The white chocolate pudding keeps the cookies super soft for days! Just store them in an air tight container on the counter.
Wait, there's more! Today I am teamed up with the brilliant Shelly from Cookies and Cups. She also made a white chocolate pudding recipe. Make sure you check out her Gingerbread Cupcakes with White Chocolate Pudding Frosting. They look sooooo good and they are perfect for the holiday season! Yay for white chocolate pudding day:)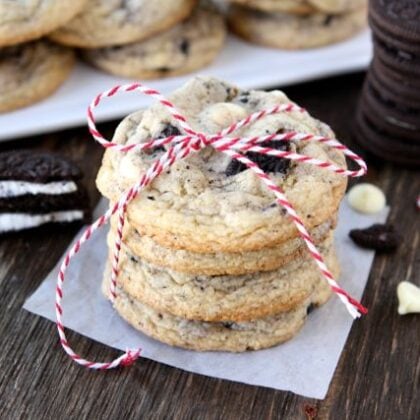 Oreo White Chocolate Pudding Cookies
Soft white chocolate pudding cookies with Oreos and white chocolate chips-a new favorite cookie at our house!
Instructions
Preheat oven to 350 degrees F. Line a baking sheet with parchment paper or a Silpat baking mat and set aside.

Using a mixer, beat together butter and sugars until creamy. Add in white chocolate pudding mix, eggs, and vanilla extract. In a medium bowl, whisk together the flour, baking soda, and salt. Add the dry ingredients to the wet ingredients and mix until just combined. Stir in the Oreos and white chocolate chips.

Drop cookie dough by rounded tablespoons onto prepared baking sheet. Bake for 10 minutes, or until slightly golden around the edges and set. Remove cookies from oven and let cool on baking sheet for two minutes. Transfer to a cooling rack and cool completely.

Note-these cookies will stay soft for 3-4 days. Store in an air-tight container on the counter.
Have you tried this recipe?
Leave a comment below and share a photo on Instagram. Tag @twopeasandpod and hashtag it with #twopeasandtheirpod
If you like these Oreo White Chocolate Pudding Cookies, you might also like: