When we remodeled our kitchen, we knew we needed a new dining room table. We searched for months and never found anything we loved. Luckily, we came in contact with a local furniture maker/designer, Patrick Davis, who builds custom farm tables. We met with him in December and fell in love with his work. We told him we wanted a rustic, solid wood, farm table with two large benches. We saw a few previews along the way and every time I got more excited about our table.
On Saturday, we got the call that our table was finished and was ready to be delivered. The table is perfect, just what we had in mind. The base of the table is built out of wood from an old bridge that collapsed over the Great Salt Lake. How cool is that? I love that our table has a story behind it. It is rustic, solid, and has lots of character. The dark wood contrasts nicely with the white cabinets and floors. We love it!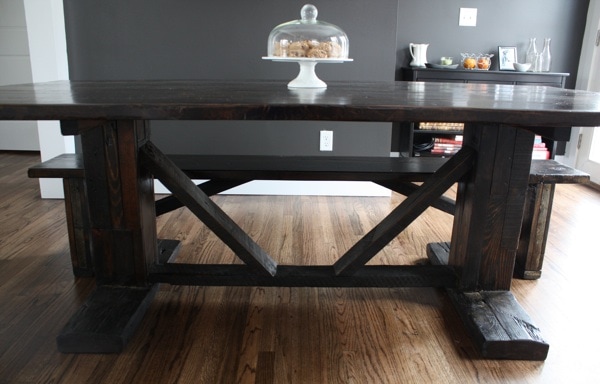 I love the design underneath the table and benches. It adds a little something extra. We plan on buying two chairs for both ends, but we have to find the right ones. I am on the hunt! We are glad we have more space for our guests. Come dine with us anytime!