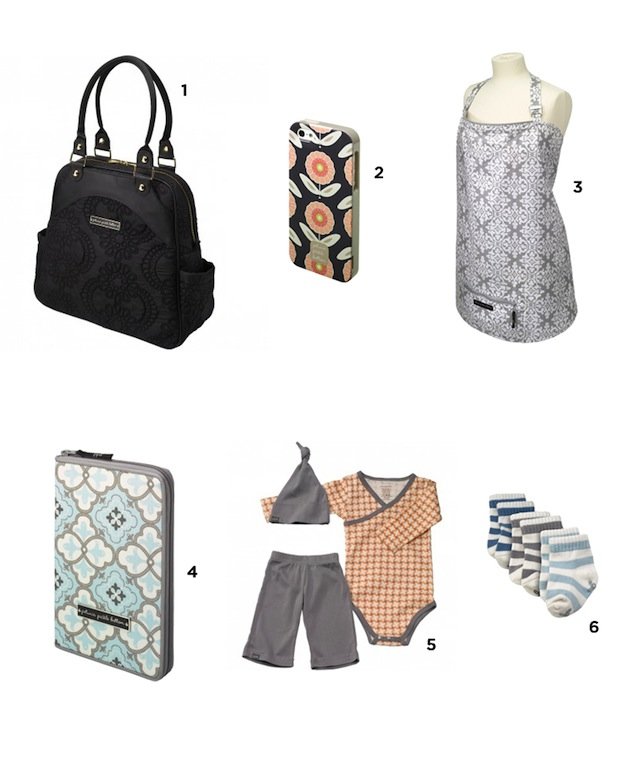 We are thrilled we are having another boy because we have almost everything we need, but I can't help myself from looking at all of the cute baby stuff that is out there! I am going to have to do a little shopping. I can't help myself. Our little guy needs some stuff of his own:)
I have been spending a lot of time on Petunia Pickle Bottom's website. They have the most adorable stuff! Today I am sharing a few of my favorite finds and we teamed up with Petunia Pickle Bottom for a fun giveaway!
First, let's talk about my favorite things for mama and baby!
1. Sashay Satchel-I bet you didn't even know this is a diaper bag because it is super stylish! I love the black embossed fabric with polished gold hardware. It also has a ton of pockets, a removable changing pad, and the versatility to move from backpack to shoulder bag. I know I will be using this bag with baby and without! It is a great everyday bag!
2. Adorn Phone Case-I have this phone case on my iPhone right now! It is perfect for spring and I love the protection it gives my iPhone.
3. Haven Nursing Cover-I lost the nursing cover I used for Caleb so I had to get a new one! I love the grey and white print! Plus, it folds into a compact pocket perfect, which makes it easy to pack in my diaper bag.
4. Beginnings Book-I am counting on my Beginnings Book to keep me organized! Not only is the book super cute, but it is super functional too! It will help me keep track of the important details of my pregnancy and the first years of our little guy's life. I love that everything is stored in one place!
5. Social Set-I love, love, love orange and grey together! I can't wait to put our little guy in this adorable little outfit. I hope he will keep the hat on:)
6. Stripe 3-Pack Socks-You can never have too many baby socks! They always seem to disappear. I can't wait to put these soft striped socks on our baby's tiny feet!
So many fun things! All of these items make great baby gifts..and great Mother's Day gifts too! Don't forget Mother's Day is May 11th!
And now for the giveaway! We are giving away one Petunia Pickle Bottom Sashay Satchel and one Phone Case. The lucky winner will get to pick out their favorite pattern! There are so many fun ones! Make sure you check them all out!
To enter, use the PromoSimple Widget below! Good Luck!
Disclosure-this giveaway is being provided by Petunia Pickle Bottom, but our opinions are our own.