Recipe for Egg Vegetable Casserole
I am not a fan of most casseroles. The name alone doesn't sit right with me. I don't like mixing my foods and it seems like most casseroles contain canned soup, which is scary to me. I am sure there are some fabulous casseroles out there. I know they make quick and easy meals and most people enjoy them, but they are not my "cup of tea."
We had some friends over for brunch and Josh asked if he could make an egg CASSEROLE. AGGH! That word again:) I didn't like the idea at first, but after he explained what he wanted to make, I was all for it.
He basically made a frittata, except it was in a 9 by 13 pan, in the oven. He used eggs and veggies-onions, red and yellow peppers, tomatoes, and spinach. He also added in some mozzarella cheese. He whipped it up in a hurry and it was actually really pretty when he pulled it out of the oven.
If you are having company for breakfast or brunch, give an egg casserole a try! It's easy and will feed the masses! And I guess I should give casseroles a break, they aren't that bad after all. At least this one wasn't!
Egg Vegetable Casserole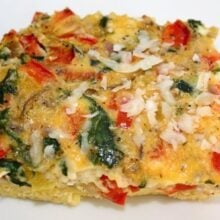 We love this Egg Vegetable Casserole because it feeds a crowd!
Yield: Serves 16
Prep Time: 10 minutes
Cook Time: 35-40 minutes
Total Time: 50 minutes
Ingredients:
18 eggs
Splash of skim milk
Salt and pepper to taste
Spike seasoning
Olive oil
1/2 red pepper, diced
1/2 yellow pepper, diced
1/2 red onion, diced
1 cup of fresh spinach, chopped
3 Roma tomatoes, diced
1 cup mozzarella cheese, shredded
Parmesan cheese, shredded
Directions:
In a large bowl, whisk together the 18 eggs. Add a splash of milk. Add salt and pepper to taste. We also used Spike seasoning, 1-2 teaspoons. If you don't have this, try Italian seasoning instead.
In a large skillet, saute the peppers and onion in a little bit of olive oil.  Add in the spinach for a minute or two. Pour the eggs in a greased 9 by 13 Pyrex dish. Add in the sauteed veggies and tomatoes. Stir everything in the pan. Stir in mozzarella cheese. Make sure everything is distributed evenly.
Bake in a 350 degree oven for about 35-40 minutes or until the eggs are set and golden.
Sprinkle the casserole with Parmesan cheese if you wish.
All images and text ©
Two Peas & Their Pod
.
Follow twopeasandpod on Instagram and show us what recipes you are making from our blog! Use the hashtag #twopeasandtheirpod! We want to see what you are making in your kitchen!