I am not a spontaneous person. So when Josh suggested we drive to Illinois on a whim, I looked at him like he was crazy. I hate car rides and there was no way I was going to pack up and go. My "to do" list was too long and we didn't plan on a trip to Illinois. I am a planner! I don't do things that aren't on our calendar.
Well, Josh wouldn't stop talking about a road trip to Illinois. He really wanted to go help my dad with a remodeling project. After a few hours, I started warming up to the idea, but I suggested we fly. We looked at tickets, but they were outrageous. I finally agreed to go, but told Josh I needed one day to get everything ready. He agreed. So off to Illinois we went!
The first day, we drove to Fort Collins, Colorado. We stayed with my brother and his family. It was about a 7 hour drive. The next day, we woke up at 4 a.m. and drove to central Illinois, where my dad lives. It was a 15 hour drive. It was a long day, but we did it. We only stopped to get gas twice. Caleb was awesome. He only cried for about 15 minutes when I couldn't find his spoon:)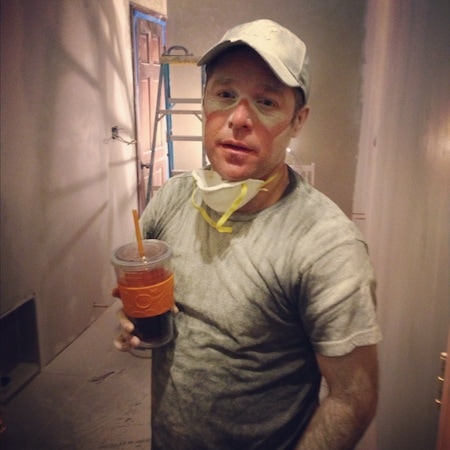 We spent 9 days at my dad's house and had the best time. Josh worked on the remodeling project every day with my dad. They got a lot of work done and the house looks great.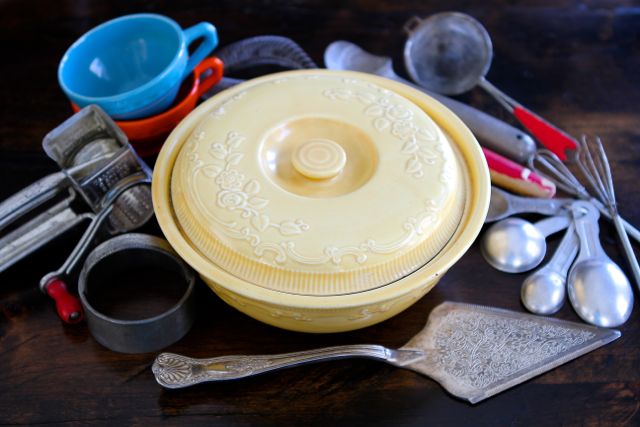 I planned on getting caught up on a lot of blog work while I was in Illinois, but my dad's internet is sooooo slow. He lives in the boonies. So I used the slow internet as an excuse to relax and take some time off. It was just what I needed. I spent my days playing with Caleb, cooking, baking, and visiting with family and friends. I also did a little antique shopping. I found some great props for the blog.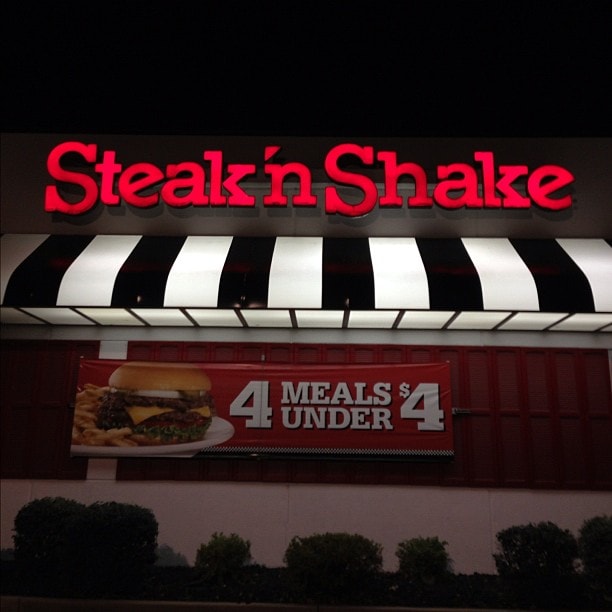 Josh and I even went out on a date. We saw the movie Argo and went to Steak 'n Shake for dessert. Josh is obsessed with Steak 'n Shake's chocolate milkshakes. They are his all-time favorite. Too bad they don't have Steak 'n Shake in Utah…or maybe it is a good thing since he had a shake almost every day we were in IL:)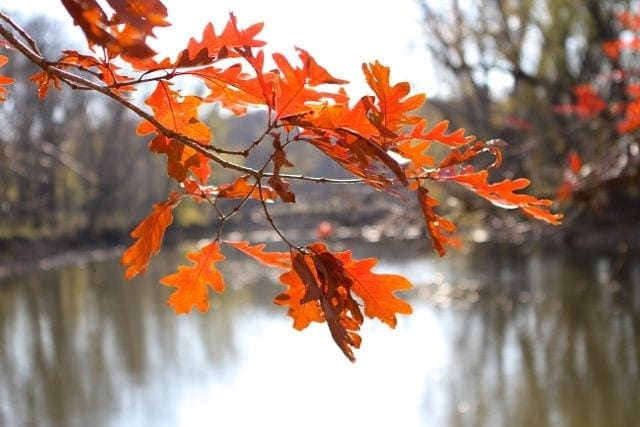 We also went on a few walks in the woods. My dad lives by a river and the scenery is gorgeous. It was nice to be in the country again.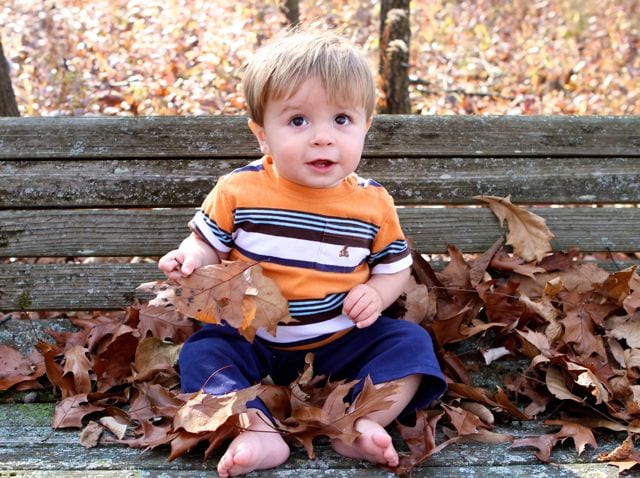 Caleb liked playing in the leaves.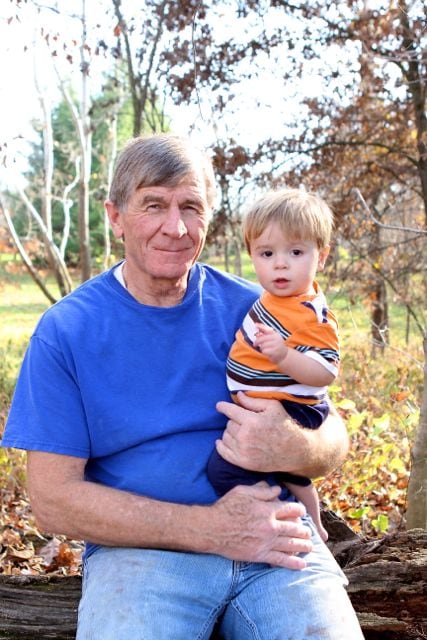 But he really loved playing with Papa. They are best buds!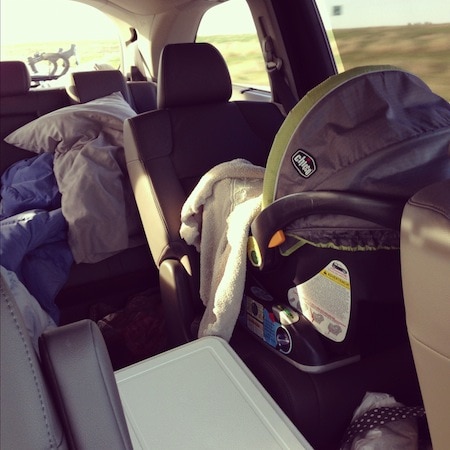 We were sad when it was time to pack up and get back in the van. We were sad to leave my family and sad to sit in the van for another 22 hours.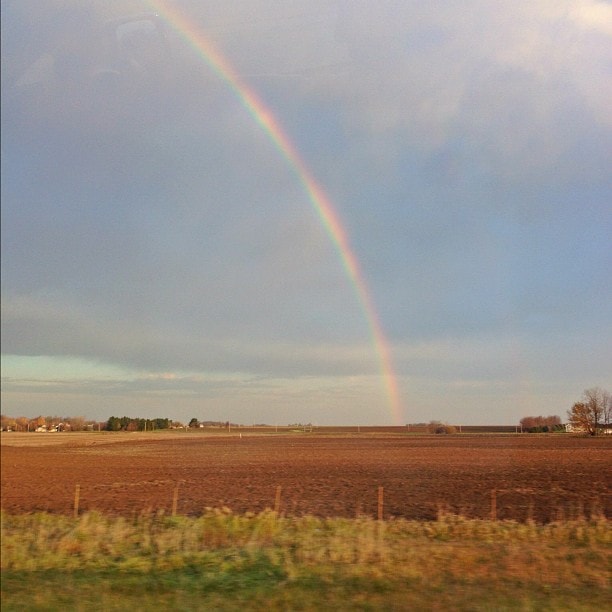 We did see a rainbow when we started the long drive home. It was a great send off present from Illinois.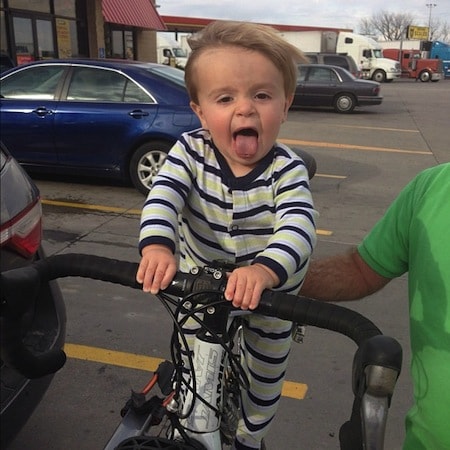 On the way home, we stopped in Nebraska to catch some shut eye. We did the trip in two 11 hour days. Caleb didn't cry at all on the way home. He had so much fun reading books, singing songs, watching movies, eating snacks, and sleeping. He did enjoy getting out of his car seat at the gas stations.
The trip was long, but well worth it. I loved spending time with my family and I am so glad Josh was able to help my dad with his project. Do I want to go on another road trip? Not anytime soon! I think I am good for a few years…or forever:)