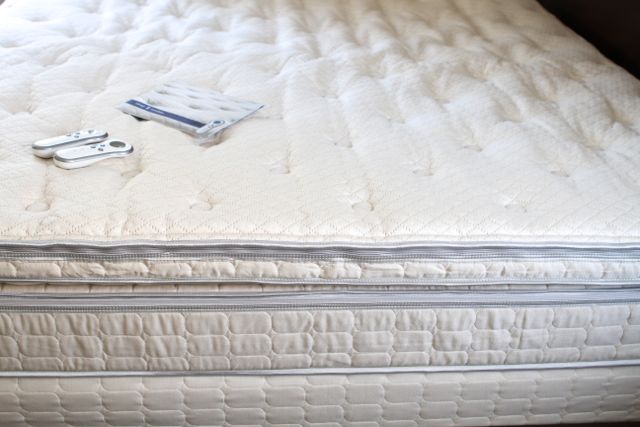 Josh here!
Most of you don't know that in 2004, I was the lucky recipient of fractured vertebrae in my neck. I wish I had an exciting story for you, like how I was jumping motorcycles or dropping cliffs on my snowboard, but I don't. The crazy part of the story is that all I was doing was walking out of a mall and KABOOM! The steal header of the door fell off and hit me in the head. It messed me up pretty good. I was in physical therapy for 18 months and my neck still isn't the same.
We were recently contacted by Sleep Number to try out their i8 bed. I was ecstatic. A good bed is so important, especially since I've had a broken neck. Sleep Number Beds have DualAir Technology that allows you to set each side of the bed to the ideal firmness and comfort for each person.  I like a firmer bed and Maria could sleep on a bed of feathers and be just fine, so this feature had me really excited.
The Sleep Number Bed is made of air filled chambers that help distribute your weight more evenly removing the pressure points that often cause discomfort on an innerspring mattress. Because of these features Sleep Number Beds have been clinically proven to relieve back pain and improve sleep quality.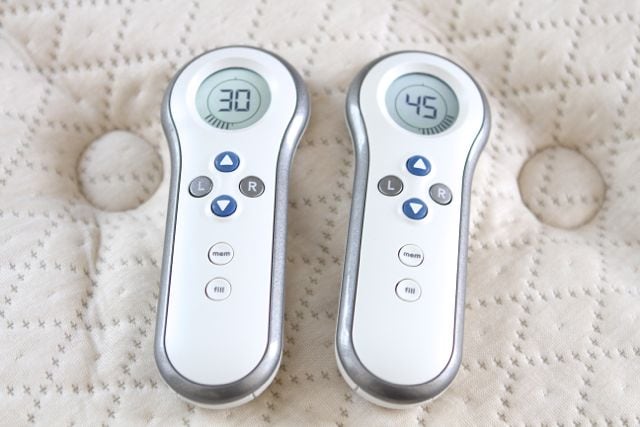 Before we got our bed, we went into the Sleep Number store to be evaluated. They had us each lay on the bed with a computer that determined our perfect "sleep number."  My magic number is 45 and Maria's is a 30.
Sleep Number delivered our bed and set it up, talk about service! All we had to do was make the bed. We each have our own remote so we can control our sleep numbers.
Since we have received our Sleep Number i8 bed we have slept like hibernating bears, because most of us know babies are not the best at sleeping. We are both very happy with our new bed.  And Caleb loves it too, especially the remotes.
Thanks Sleep Number for helping us get good zzzzz's!
Disclosure: We received a free Sleep Number bed to review from Sleep Number for this post, but of course our opinions are our own.