It is hot and I have been eating a lot of frozen yogurt, sorbet, and ice cream. My latest obsession is Talenti Gelato. Have you tried it? Oh my goodness, it is amazing! Talenti uses only the finest ingredients and contains less fat than ice cream. The gelato is 100% natural and made with fresh pasteurized milk, free of growth hormones.
Talenti has a variety of gelato flavors-there is a flavor for everyone. I have liked every flavor I have tried, but my three favorites are Caramel Cookie Crunch, Tahitian Vanilla Bean, and Sea Salt Caramel.
Caramel Cookie Crunch takes Cookies and Cream to a whole new level. Crunchy chocolate cookies are combined with Dulce de Leche to create an amazing gelato.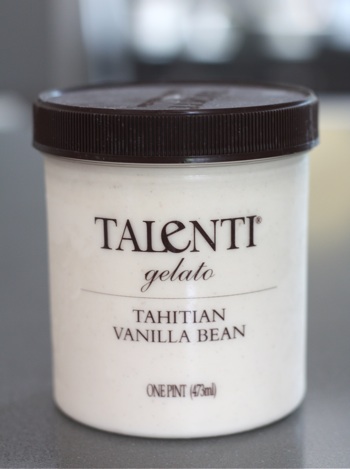 Talenti's Tahitian Vanilla Bean is not your ordinary vanilla gelato. They use fresh whole organic Tahitian vanilla beans that are imported from Papua New Guinea. The vanilla flavor is outstanding. This gelato is great plain or served along side any cake, brownie, or pie.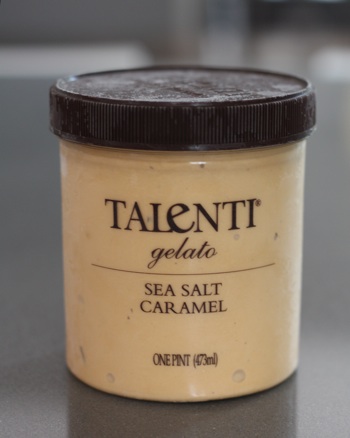 Last but not least, is the Sea Salt Caramel gelato. I love sweet and salty together and this gelato is perfection. A rich golden Argentine caramel base with a hint of Fleur De Sel sea salt and pieces of chocolate covered sea salt caramel truffles. Oh my! This gelato is divine! I didn't want to share with Josh:)
If you haven't tried Talenti gelato, you must! And Talenti is sponsoring a "Cutest Moments" photo contest on their Facebook page, which began on Tuesday, July 26th and will go on for 6 weeks, until September 2nd. All of the contest details can be found here.
Talenti is asking its Facebook fans to post photos of themselves or their kids enjoying Talenti's delicious gelato or sorbetto. The photos can be cute, messy, funny…anything! Each week, the photo with the most votes will be selected as the week's winner and will be the Talenti profile photo for the day! Each of these weekly winners will also be entered as finalists for the grand prize (a four-pack of Talenti each month for one whole year. YUM!). The grand prize winner will be announced on September 12th." Grab some Talenti Gelato and start taking some photos! Good luck!
*Talenti sent us this gelato to try, but our opinions are our own.