Valentine's Day Gift Guide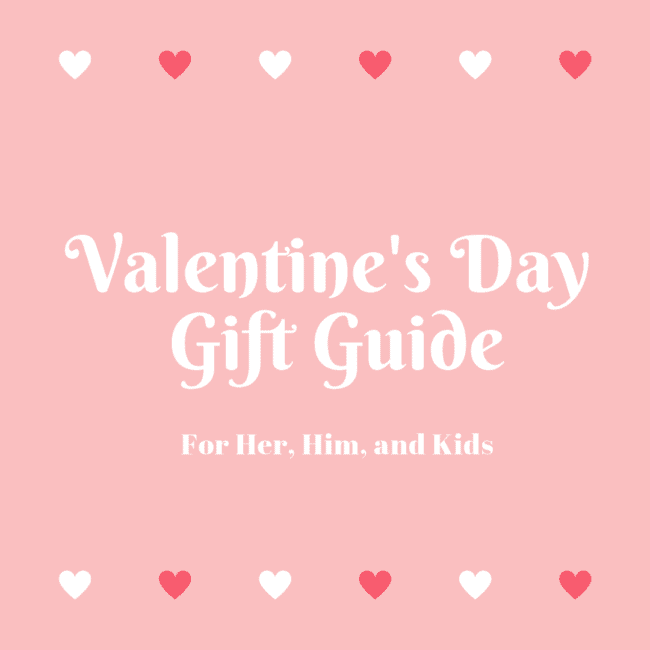 Valentine's Day is right around the corner and if you aren't sure what to gift to your loved ones, I am here to help! I am sharing Valentine's Day Gift ideas for her, him, and kids. These gifts will help make the day of LOVE extra sweet and special.
If you have any good gift ideas, leave your suggestions in the comments to help us all out!
For Her:
Perfume-A few of my favorites are Stella, Wish, and Jo Malone London.
Necklace-I love this simple initial pendant. And this necklace and this one are my all-time favorites.
Earrings-These earrings look good on everyone and go with everything and I love this set! Such great prices!
Ring-this simple ring is so classy. Love it!
Lip Sleeping Mask–This stuff is magical! Everyone needs this.
Facial Roller-I love these little facial rollers and this one is pretty pink! Perfect for Valentine's Day!
Date Night In-I love this book! Lots of great ideas for date night in!
Blanket-The perfect snuggling blanket. It's SO soft.
Pajamas-Love this pj set!
Dutch Oven-This one is PINK with a heart. LOVE!
Robe-this satin robe is so pretty and comes in several colors.
Lip Set-love this brand and this gift set is great!
Other-a surprise trip or date night, pedicure/manicure or spa day, flowers or house plants (I prefer plants because they last longer), chocolate or their favorite treat, alone time (a hotel room for a night or a quiet night or day at home) sometimes we just need a break by ourselves:)
For Him:
Cologne-This one is so good!
Bag-This weekend bag is great for traveling and a great price!
Bluetooth Speaker-This little speaker is perfect for playing slow jams:)
Toiletry Case-the perfect gift for the traveler. It comes in a few colors.
Jacket-Josh loves this waterproof jacket.
Wallet-You can't go wrong with a classic wallet.
Indoor Pizza Oven-this is the coolest pizza oven ever!
Make Your Own Hot Sauce Kit-for the spicy lover! Hot stuff!
Watch-I think any guy would be happy with this watch.
Other-surprise trip or date night, movie tickets, sporting event tickets, concert tickets, buy their favorite treat or make a special dessert at home, Netflix and chill:)
For Kids: