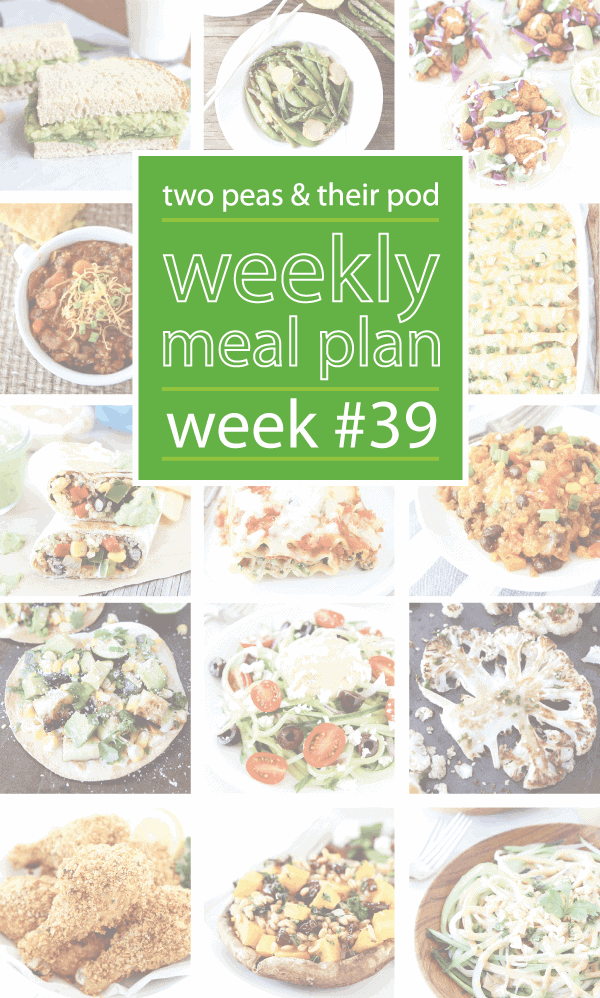 Hello, hello! Are you ready for another week of good eats? We hope you are using these meal plans to make dinner time easier and tastier at your house! Enjoy!
Week 39
Monday (10/12): – Grilled Polenta Rounds with Black Bean and Avocado Salsa– Start the beginning of the week off with a perfect no fuss meal made even easier by using pre-packaged polenta.
Tuesday (10/13): Slow Cooker Butternut Squash Soup with Roasted Chickpeas-let your slow cooker make you dinner! We love this easy fall soup!
Wednesday (10/14): Enjoy leftover soup for dinner with a simple salad. Make a batch of Brown Butter Maple Granola, it is perfect for breakfast or snacking.
Thursday (10/15): Roasted Cauliflower Grilled Cheese– Roasted cauliflower is one of my favorite vegetables and now it's in one of my favorite grilled cheese sandwiches! Try it tonight for dinner and you'll be hooked too!
Friday (10/16): Asian Kale Salad– This salad is bursting with flavor and almost too pretty to eat. Cook up some chicken or fish to go with, if you wish! Enjoy some Salted Caramel Apple Crumb Bars after your meal!
Saturday (10/17): Brown Butter Pumpkin Waffles– The perfect Fall waffles for breakfast or dinner! Enjoy some Brown Butter Buttermilk Syrup on top…it's sure to be the best syrup to ever touch your lips!
Sunday (10/18): Italian Sausage Tortellini Soup with Chopped Brussels Sprouts Salad and Pumpkin Bundt Cake for dessert! Hurry up Sunday:)
If you make one of our recipes, take a picture and share on Instagram! Use the hashtag #twopeasandtheirpod! We want to see what you are making in your kitchen! And don't forget to follow us on Instagram!
And remember, we created a Weekly Meal Plan section on our blog so you can get inspiration from all of the weeks!