Print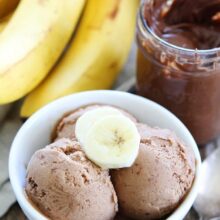 2-Ingredient Banana Nutella Ice Cream
You only need two ingredients to make this amazing Banana Nutella Ice Cream! It is magic!
Place the frozen banana slices in a food processor or powerful blender. Puree banana slices, scraping down the bowl as needed. Puree until the mixture is creamy and smooth. This will take a few minutes.

Add the Nutella and blend until smooth. Serve immediately for soft-serve ice cream consistency. If you prefer harder ice cream, place ice cream in a container and freeze for a few hours. Remove from freezer and let the ice cream sit for 10 minutes before scooping.

*Note-make sure you use a powerful food processor or blender! Use 3-4 tablespoons of Nutella, depending on how rich you want the ice cream to be!