Print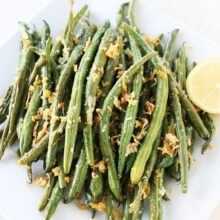 Roasted Lemon Parmesan Green Beans
Roasted green beans with a touch of lemon and parmesan! This simple vegetable dish goes great with any meal!
Preheat oven to 400 degrees F. Place green beans on a large baking sheet. For easier clean up you can line the baking sheet with foil.

Drizzle the green beans with olive oil, lemon juice, and season with salt and pepper, to taste. Toss. Place pan in the oven and roast for 10 minutes. Remove pan from oven and sprinkle Parmesan cheese over the green beans. Toss with a spatula and return to the oven. Cook for an additional 7 minutes or until beans are tender, but still crisp and cheese is melted. Serve immediately.