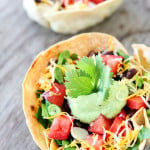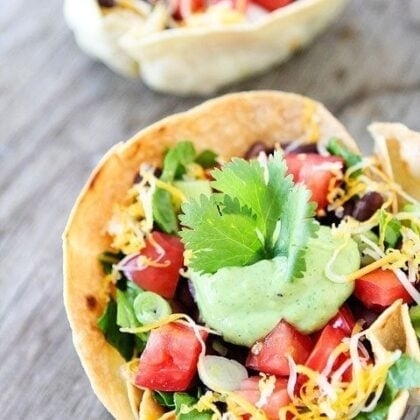 Print Recipe
Taco Salad with Homemade Tortilla Bowls
Recipe from Two Peas and Their Pod
Make homemade tortilla bowls to serve up your favorite taco salad! These bowls are fun to make and fun to eat!
Preheat oven to 375 degrees F.

Coat the inside of oven safe bowls with cooking spray. Gently press tortilla inside bowl. Place bowls on two large baking sheets. Bake for 14-16 minutes or until evenly browned. If using cheese, remove tortilla bowls from oven 2-3 minutes before they are done baking. Sprinkle with cheese and return to oven. Finish baking until cheese is melted. Let tortilla bowls cool in bowls for 5 minutes before transferring to wire cooling rack.

Fill the tortilla bowls with your favorite taco salad fixings! We like to use lettuce, black beans, diced tomatoes, green onion, cilantro, shredded cheese, and creamy avocado dressing.

Note-you can make the tortilla bowls in advance. They will keep in an air tight container or Ziploc bag for up to 2 days. You can also add shredded chicken, beef, or pork!