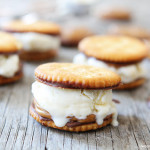 Print Recipe
Ritz Cracker Chocolate Peanut Butter Ice Cream Sandwiches
Recipe from Two Peas and Their Pod
Ritz crackers with a layer of milk chocolate, peanut butter, and a scoop of vanilla ice cream! These cute little ice cream sandwiches are simple to make and fun to eat!
Place the chocolate chips in a medium microwave safe bowl and melt until smooth, stirring every 30 seconds.

Cover a baking sheet or platter with wax paper. Dip the bottom side of the crackers in the melted chocolate. Place the crackers on the wax paper. Transfer the crackers to the freezer and let the chocolate dry completely. This will take about 5 minutes.

Remove the crackers from the freezer and spread peanut butter over 12 of the chocolate crackers. Place the crackers back in the freezer so the peanut butter can set up, about 5 minutes.

Remove the crackers from the freezer and place a small scoop of vanilla ice cream into the center of the 12 chocolate peanut butter crackers. Gently press the remaining crackers, chocolate side down, onto the ice cream scoop. Freeze for at least 30 minutes before serving.

Note-I use a medium cookie scoop to scoop up the ice cream. Mix things up by using your favorite flavor or ice cream. The sandwiches will store in the freezer for up to a week, just wrap them individually with plastic wrap.