Print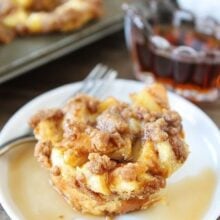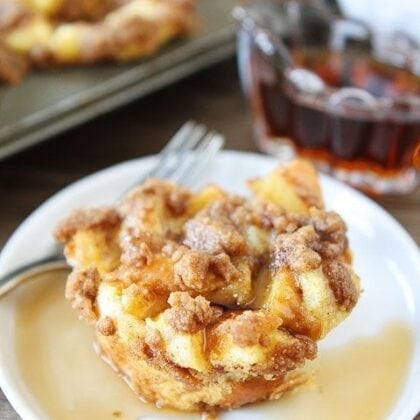 Baked French Toast Muffins
Baked French Toast made in muffin cups. These muffins are too cute and a fun breakfast treat!
For the Cinnamon Streusel Topping:
1/4

cup

cold butter

1/4

cup

light brown sugar

1/4

cup

all-purpose flour

1/8

teaspoon

ground cinnamon

Pinch

of salt

Butter and Maple Syrup

for serving, optional
In a medium bowl, whisk together the milk, eggs, sugar, vanilla, and cinnamon.

Grease a 12 cup muffin tin. Add about 1 cup of bread cubes to each muffin cup. Carefully pour egg and milk mixture evenly over each muffin tin. You may need to press down on the bread cubes after you pour a little mixture and then pour more. Pour slowly or you will have a mess. Or you can combine everything in a large bowl and then fill the muffin cups. Cover the muffins with plastic wrap and refrigerate for 2 hours or up to overnight.

 When ready to bake, preheat the oven to 350 degrees F. To make the cinnamon streusel, in a small bowl, combine butter, brown sugar, flour, cinnamon, and salt. Mix together with your hands, until you have a crumbly mixture. Remove the muffins from the refrigerator and sprinkle the muffins evenly with the streusel topping.

Bake for 25 minutes or until tops are golden brown. Let muffins cool for 5 minutes. Remove from pan and serve with butter and maple syrup, if desired.