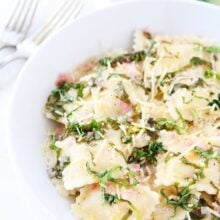 Cheese Ravioli with Lemon Basil Butter Sauce
The lemon basil butter sauce will knock your socks off! And the best part? You can have this dish on your dinner table in less than 30 minutes!
Recipe from Two Peas & Their Pod
Bring a large pot of water to boil. Add a pinch of salt and cook ravioli according to package instructions. Drain and set aside.

While the ravioli is cooking, make the butter sauce. In a small saucepan, melt the butter over medium heat. Add the shallot and cook until tender, about two minutes. Stir in the lemon zest, lemon juice, and basil. Cook for an additional 2 minutes. Season with salt and pepper, to taste.

Pour the ravioli in a serving bowl. Pour lemon basil butter sauce over the ravioli and stir gently to combine. Garnish with Parmesan cheese and extra basil, if desired. Serve immediately.