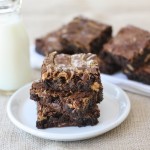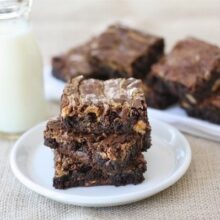 Print Recipe
Peanut Butter Snickers Brownies
Recipe from Two Peas and Their Pod
Fudgy brownies with peanut butter and Snickers candy bar pieces! These brownies are to die for!
Heat oven to 350°F. Grease a 9 x 13 pan with cooking spray. Set aside.

Place butter in medium saucepan on the stove. Heat over medium heat until butter is melted. Remove from heat and stir in sugar and vanilla extract. Add eggs, one at a time, beating well with spoon after each addition. Add cocoa; stir until well blended. Add flour, baking powder and salt; stir until combined. Stir in Snickers candy bar chunks. Pour batter into prepared pan.

Drop dollops of peanut butter over the batter. Using a knife, swirl peanut butter into brownies. Bake for 35-40 minutes or until brownies begin to pull away from sides of pan and a toothpick inserted in the middle comes out clean. Cool brownies completely in pan on a wire rack. Once cool, cut into squares and serve.