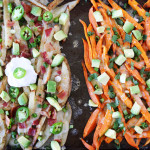 Print Recipe
Loaded Cheese Fries
Recipe from Two Peas and Their Pod
His and Hers versions of loaded cheese fries! These fries are great for snack time, dinner time, and parties! Let your guests create their own loaded fries!
For the Fries:
2

medium sweet potatoes

washed, peeled, and cut into fries

2

medium russet potatoes

washed and cut into fries

1

tablespoons

olive oil

Salt and black pepper

to taste
Maria's Toppings (sweet potatoes):
Josh's Toppings (regular potatoes):
Preheat oven to 400 degrees F. Place sweet potatoes and potatoes on a large baking sheet. Drizzle with olive oil and toss until fries are well coated. Season with salt and black pepper, to taste. If the fries are too crowded, you can use two baking sheets. When we use one baking sheet, we keep the sweet potato fries on one side and the regular potatoes on the other side. Bake for 20 minutes. Remove from oven and turn the fries over with a spatula. Bake for an additional 20-25 minutes or until fries are crisp around the edges and tender on the inside.

Remove from oven and top fries with shredded cheese. I like to use Arla Dofino Chili-Lime Gouda on the sweet potato fries. Josh likes to use Arla Dofino Jalapeño Havarti. Return to hot oven and bake until cheese is melted, about 5 minutes.

Remove from oven and top with desired toppings. For the sweet potato fries, I like to use cilantro, green onion, and avocado. Josh likes to cover his fries with bacon, jalapeño slices, avocado, and sour cream. Serve immediately.

Note-feel free to add your favorite toppings! We like to make loaded cheese fries when we have friends over. We let our guests top their fries with whatever they want! It is a fun party recipe!