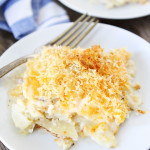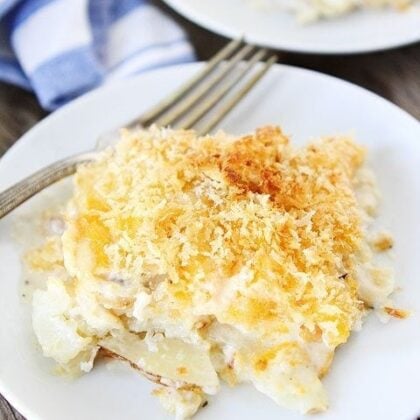 Print Recipe
Parmesan Crusted Scalloped Potatoes
Recipe from Two Peas and Their Pod
Layers of creamy, cheesy potatoes with a crispy Parmesan panko crust. This is Josh's famous recipe! Everyone loves these cheesy scalloped potatoes!
For the Parmesan Panko Topping:
Preheat the oven to 350 degrees F.

In a large pot, melt the butter over medium-high heat. Add the onions and saute until translucent and softened. Add the garlic and continue cooking for another minute. Stir in the cream and vegetable broth. Season with the salt and pepper. Add the potatoes and bring to a boil. Reduce to a simmer. Continue cooking until the potatoes are tender. Poke with a fork to check. This should take about 10-15 minutes.

Transfer half of the potatoes and cream mixture to a greased 9 x 13 pan. Sprinkle half of the cheeses evenly over the potatoes. Layer the rest of the potatoes over the cheese. Sprinkle remaining cheese over the second layer of potatoes.

Make the Parmesan Panko topping. In a small bowl, combine melted butter, Panko bread crumbs, and Parmesan cheese. Stir to combine. Sprinkle topping over the potatoes.

Bake potatoes until bubbly and the top begins to brown, 20-25 minutes. Remove from the oven and let sit for 10 minutes. Serve warm.