Parmesan Crusted Scalloped Potatoes-cheesy and creamy layered potatoes with a crispy Parmesan panko crust! These Cheesy Scalloped potatoes are a great side dish for any meal!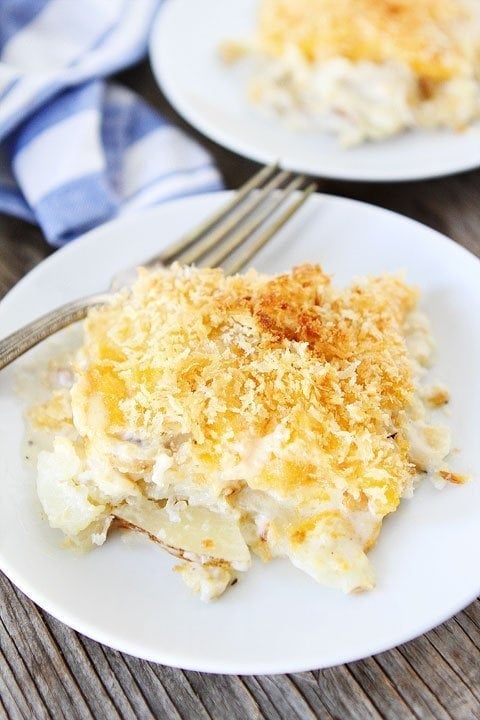 Homemade Scalloped Potatoes
After Josh and I got married, we moved into a small apartment for a few months while we were house hunting. When we were unpacking boxes in the kitchen, I came across Josh's kitchen box. He had a lot of the basics: spices, flour, sugar, canned food, etc. I also found a few boxes of scalloped potatoes. I was intrigued. My dad grew up on a farm in Idaho, so we never had boxed potatoes growing up. Potatoes didn't belong in a box:) I asked Josh why he had several boxes of scalloped potatoes and he got super excited. He said they were his favorite and asked if he could make a box for lunch. I just looked at him with a blank stare. He couldn't be serious. Oh, he was. He dug through more boxes to find some pans and he made the boxed scalloped potatoes for lunch.
I humored Josh and took a bite, but I let him enjoy the rest. I was not a fan of his favorite boxed scalloped potatoes. I told him from now on we can start making REAL scalloped potatoes:) Well, Josh must really love me because he never bought boxed scalloped potatoes again. He created a scalloped potato recipe, from scratch. And I have to say Josh's Parmesan Crusted Scalloped Potatoes are the BEST scalloped potatoes I have ever tasted. He may have got his inspiration from a box, but his scalloped potatoes are the real deal! They are SO good!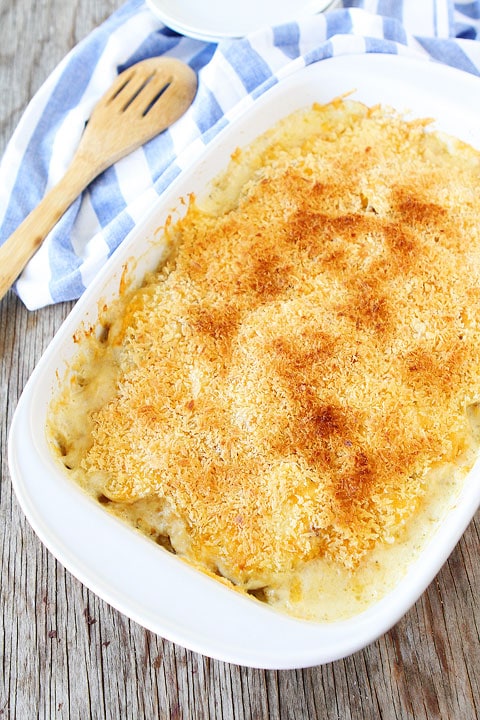 Cheesy Scalloped Potatoes
Josh has been making his famous scalloped potatoes for years, but I've never helped him. It is his recipe and he loves making them so I figure I am off the hook. I just eat and enjoy:)
I asked Josh the secret to his scalloped potatoes and he said lots of cream and lots of cheese. No wonder they are so good:) He also adds a Parmesan panko topping to the scalloped potatoes. I LOVE the crispy cheesy topping. It really makes the potatoes extra special.
Josh would eat his Parmesan Crusted Scalloped Potatoes once a week if I let him, maybe every day. He loves them! I love them too, but I try to save this recipe for special occasions. The layers of creamy cheesy potatoes are super rich. I try to eat a small serving, but they are so good I usually eat a bigger helping than I should:)? Caleb loves Josh's scalloped potatoes too! I am so glad he is growing up with REAL scalloped potatoes:)
Easy Scalloped Potatoes, Perfect for Any Meal
Josh makes his Parmesan Crusted Scalloped Potatoes every Easter. It is tradition at our house. We are all counting down the days until Easter so we can dive into a big pan of Josh's creamy and dreamy scalloped potatoes.
Add Parmesan Crusted Scalloped Potatoes to your Easter menu! They are a great side dish, but beware, they might steal the show and be the highlight of the meal.
If you like these Easy Scalloped Potatoes, you might also like: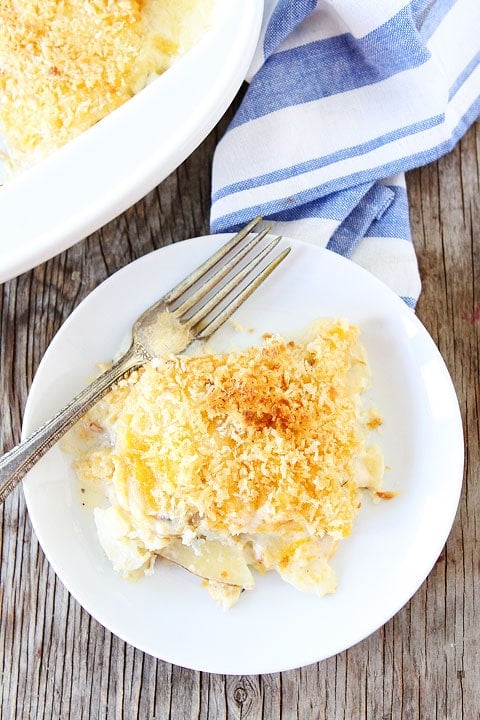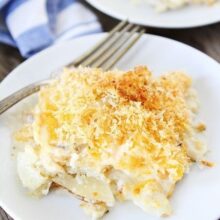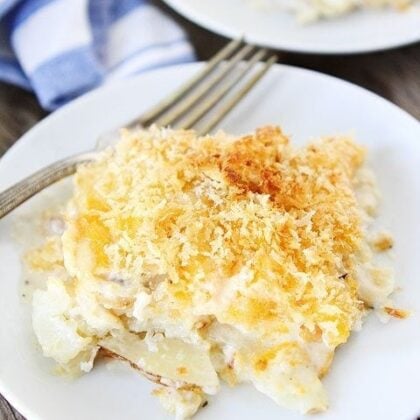 Parmesan Crusted Scalloped Potatoes
Layers of creamy, cheesy potatoes with a crispy Parmesan panko crust. This is Josh's famous recipe! Everyone loves these cheesy scalloped potatoes!
Ingredients
For the Parmesan Panko Topping:
4

tablespoons

melted butter

3/4

cup

Panko bread crumbs

1/2

cup

freshly grated Parmesan cheese
Instructions
Preheat the oven to 350 degrees F.

In a large pot, melt the butter over medium-high heat. Add the onions and saute until translucent and softened. Add the garlic and continue cooking for another minute. Stir in the cream and vegetable broth. Season with the salt and pepper. Add the potatoes and bring to a boil. Reduce to a simmer. Continue cooking until the potatoes are tender. Poke with a fork to check. This should take about 10-15 minutes.

Transfer half of the potatoes and cream mixture to a greased 9 x 13 pan. Sprinkle half of the cheeses evenly over the potatoes. Layer the rest of the potatoes over the cheese. Sprinkle remaining cheese over the second layer of potatoes.

Make the Parmesan Panko topping. In a small bowl, combine melted butter, Panko bread crumbs, and Parmesan cheese. Stir to combine. Sprinkle topping over the potatoes.

Bake potatoes until bubbly and the top begins to brown, 20-25 minutes. Remove from the oven and let sit for 10 minutes. Serve warm.
Have you tried this recipe?
Leave a comment below and share a photo on Instagram. Tag @twopeasandpod and hashtag it with #twopeasandtheirpod