Print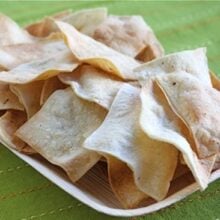 Baked Tortilla Chips Recipe
These chips are made in the oven and are easy to make at home.
Corn tortillas

Canola oil or vegetable oil

for brushing on tortillas

Kosher salt

to taste
Preheat the oven to 350 degrees F. Brush the tortillas lightly with oil. Make sure both sides are brushed. Place the tortillas in a stack and cut into triangles with a sharp knife.

Place the tortilla triangles on two large baking sheets. Make sure they are in an even layer and aren't overlapping. Sprinkle with salt, to taste.

Bake until golden brown and crisp, rotating the baking sheets once, about 10-12 minutes.

Cool completely, the chips will crisp up as they cool. Serve with guacamole, salsa, or eat them plain.