Print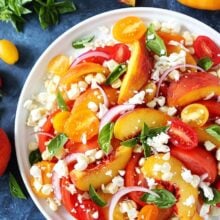 Tomato, Peach, and Corn Salad
This easy and fresh summer salad goes great with any meal and only takes a few minutes to make.
Place sliced tomatoes, peaches, grape tomatoes, sweet corn, and red onion on a large plate or platter.

Top with feta cheese and fresh basil. Drizzle with balsamic glaze and season with salt and pepper, to taste. Serve immediately.