Print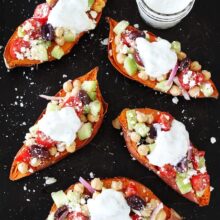 Greek Stuffed Sweet Potatoes
These loaded Greek sweet potatoes make an easy, healthy, and delicious meal!
Preheat the oven to 400 degrees F. Line a baking sheet with parchment paper or aluminum foil. Prick each sweet potato a couple of times with a fork. Place the sweet potatoes on the baking sheet and bake until soft, about 45-50 minutes.

While the sweet potatoes are baking, make the Greek filling. In a medium bowl, combine the chickpeas, tomatoes, cucumber, olives, red onion, and feta. Add the olive oil, lemon juice, red wine vinegar, and dried oregano. Stir and season with salt and black pepper, to taste.

When the sweet potatoes are soft and done baking, let them cool until you are able to touch them. Cut the sweet potatoes in half with a sharp knife. Place sweet potatoes on a plate or in a bowl. To make room for the filling, smash down the sweet potatoes with a fork. Top each sweet potato half evenly with the Greek filling. Add a dollop of Tzatziki sauce. Serve immediately.