Tzatziki Sauce
Tzatziki Sauce is a traditional Greek sauce that is good on just about everything. This easy refreshing cucumber sauce only takes 10 minutes to make and is very versatile. This classic recipe is always a hit!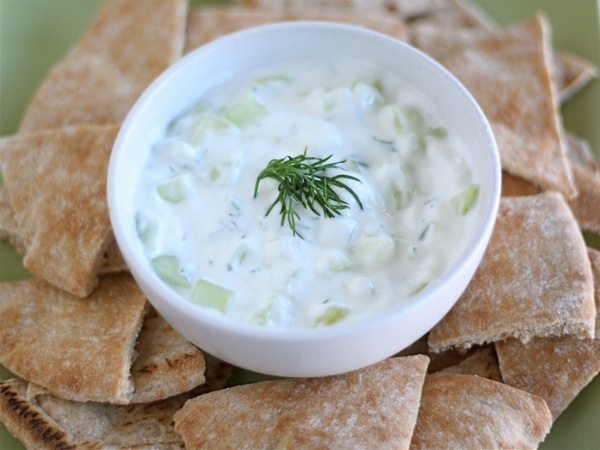 What is Tzatziki?
If you haven't heard of or tried Tzatziki, today is your lucky day because I am sharing an easy recipe for Tzatziki. Tzatziki is a traditional Greek sauce or dip that is made of yogurt, cucumber, lemon juice, garlic, and fresh dill. It is a great dip for vegetables, pita bread, pita chips, or crackers. You can also serve it with grilled meats, fish, gyros, falafel, or souvlaki. It is good on so many things. I like to add it to my veggie sandwiches. The options are endless when it comes to Tzatziki. You are going to LOVE this cucumber sauce.
How to Make Tzatziki Sauce
I always use Greek yogurt to make Tzatziki because it is thicker than regular yogurt. You want to make sure the tzatziki sauce is thick and creamy. The yogurt gives the sauce a nice tang while the cucumber, lemon, and fresh dill add a cool and refreshing flavor.
Use seedless cucumbers and peel them before chopping.
Fresh lemon juice will brighten up the flavor of the simple tzatziki sauce.
Use fresh dill for best results. You can find fresh dill in the produce section of almost any grocery store.
Fresh garlic adds a ton of flavor to the sauce, make sure you finely mince it before stirring it in.
Tzatziki is simple to make and tastes great with a variety of foods. It is also good for you. Greek yogurt is high in protein, calcium, and the cucumber will help you sneak in a vegetable serving.
So what are you waiting for? Go whip up some tzatziki sauce. You can thank me later:)
If you like this Tzatziki Sauce, you might also like: