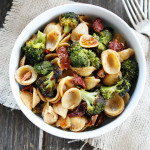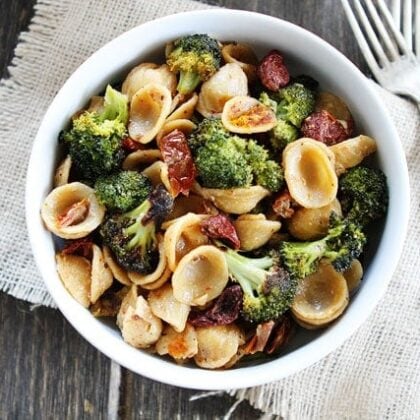 Print Recipe
Creamy Goat Cheese Pasta with Roasted Broccoli and Sun-Dried Tomatoes
Recipe from Two Peas and Their Pod
This simple and healthy pasta dish is a family favorite. The leftovers reheat beautifully too!
Preheat the oven to 400 degrees F. Place the broccoli florets and garlic cloves on a large baking sheet. Drizzle with olive oil and toss until florets are coated. Season with salt and black pepper, to taste. Place the baking sheet in the oven and roast until broccoli is tender, 15-20 minutes. Remove from oven and set aside.

While the broccoli is roasting, cook the pasta according to package instructions. Reserve 1/2 cup of the pasta water and drain pasta.

Open the jar of sun-dried tomatoes and pour 1 tablespoon of the oil into the pan. Chop the roasted garlic and add it to the hot pan. Add the roasted broccoli. Drain the rest of the oil off of the sun-dried tomatoes. Roughly chop the tomatoes and add them to the pan. Stir and add the pasta.

4. Crumble the goat cheese over the pasta and gently stir. Add a little of the pasta water and stir. If the goat cheese isn't melted, add a little more water until you reach desired creaminess. Season with salt and black pepper, to taste. Serve warm.