Print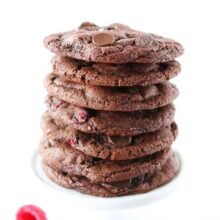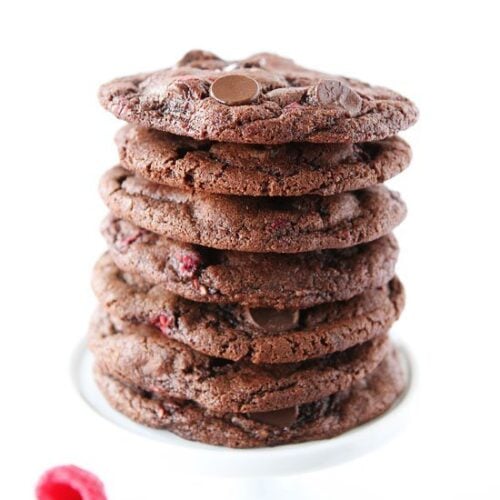 Dark Chocolate Raspberry Cookies
Chocolate cookies dotted with dark chocolate chips and raspberries. The chocolate and raspberry combo is divine!
Preheat oven to 350 degrees F. Line a baking sheet with parchment paper or Silpat baking mat or parchment paper. Set aside.

In a medium bowl, whisk together flour, baking soda, sea salt, and cocoa. Set aside.

With a mixer, cream butter and sugars together until smooth. Add in the egg and vanilla extract and mix until combined.

Gradually add flour mixture and beat until just combined. Gently stir in the chocolate chips and frozen raspberries. Try not to smash the raspberries. Some will fall apart and that is ok. Scoop the dough into rounded tablespoons and place on prepared baking sheet, about 2 inches apart. If the raspberries squish out a bit, try to place the chocolate dough over them. If some raspberries are peaking out, that is fine. Sprinkle each cookie with sea salt, if desired.

Bake cookies for 10-12 minutes, or until cookies are set, but still soft in the center. Don't overbake. Remove from oven and let sit on baking sheet for 3 minutes. Move to a cooling rack and cool completely.

Note-if the cookie dough balls get too soft and juicy because of the raspberries, stick them in the freezer for 15 minutes before baking. This will keep the raspberries from oozing out. Again, try to cover them with the chocolate dough as best as you can.