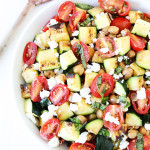 Print Recipe
Grilled Zucchini, Chickpea, Tomato, and Goat Cheese Salad
Recipe from Two Peas and Their Pod
This simple summer salad is perfect for using up your garden produce!
Preheat grill to medium high-heat. Brush zucchini with 1 tablespoon of the olive oil. Season with salt and pepper, to taste. Place zucchini on hot grill and cook until charred and just beginning to soften, about 7-10 minutes. Remove from grill and let cool to room temperature. When the zucchini is cool, chop into pieces.

In a large bowl, combined chopped zucchini, tomatoes, chickpeas, the remaining olive oil, and balsamic vinegar. Toss. Add the basil and goat cheese. Gently stir and season with salt and black pepper, to taste. Serve.