jump to recipe
Grilled Zucchini, Chickpea, Tomato, and Goat Cheese Salad
Grilled Zucchini, Chickpea, Tomato, and Goat Cheese Salad-this simple and healthy salad is perfect for zucchini season!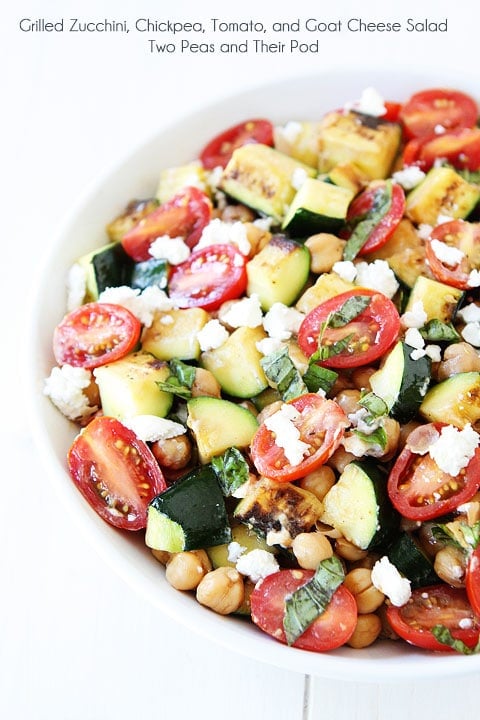 A few weeks ago, I shared a recipe for Chocolate Coconut Zucchini Cake and thought about making it again with the plethora of zucchini we have, but I decided to make a salad instead. I have some baby weight to lose:). I know salad isn't as exciting as cake, but I really love this Grilled Zucchini, Chickpea, Tomato, and Goat Cheese Salad. I promise it's worth making! Maybe you can eat this salad for dinner and follow it up with the Chocolate Coconut Zucchini Cake. A double dose of zucchini sounds good to me!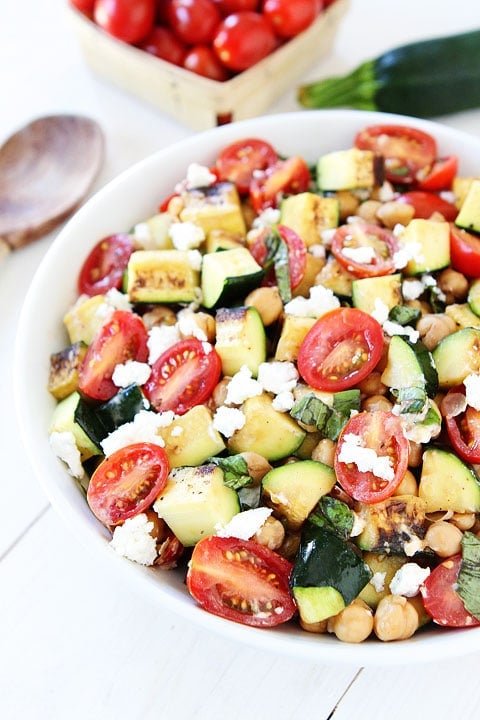 Grilled zucchini is so good! I love it! Plus, you don't have to heat up the house. Just take the zucchini outside and fire up the grill!

OTHER RECIPES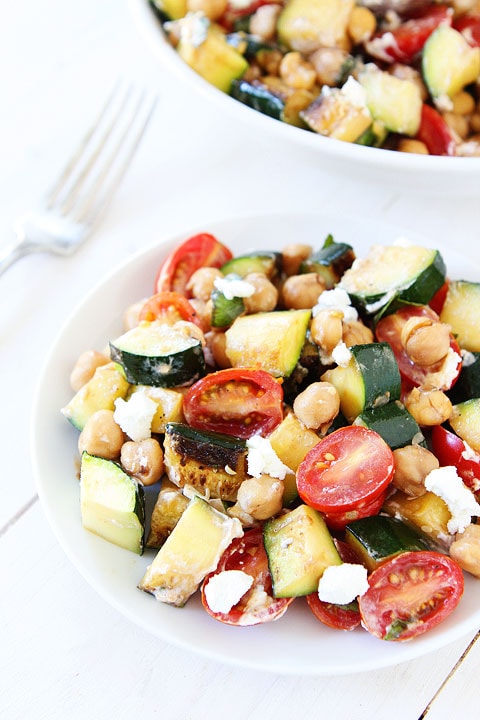 I combine the grilled zucchini with chickpeas, tomatoes, a splash of balsamic vinegar, goat cheese, and fresh basil. That's it! This salad couldn't be any easier!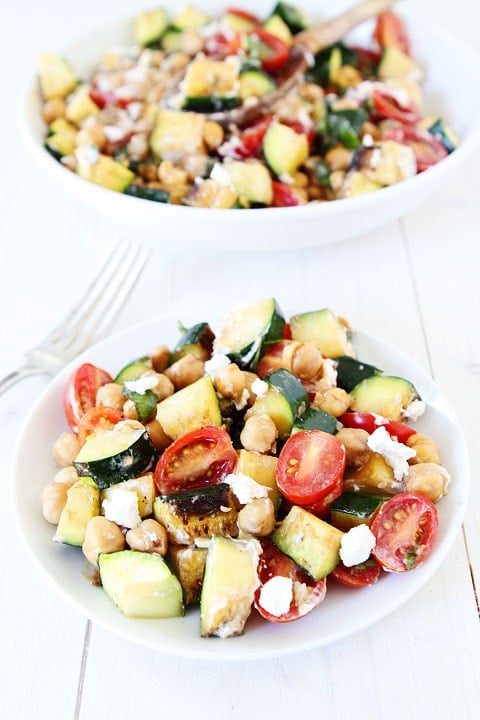 This zucchini salad is great served as a main dish or side dish. I ate it for dinner with a side of watermelon. It was the perfect summer meal! And if you aren't crazy about goat cheese, feta cheese or Parmesan cheese would be good too, but I personally love me some goat cheese!
Put your summer zucchini to good use and make this easy Grilled Zucchini, Chickpea, Tomato, and Goat Cheese Salad. And make sure you save room for a piece of Chocolate Coconut Zucchini Cake. You can never have too much zucchini:)
If you are looking for more zucchini recipes, check out our favorite zucchini recipes! There are lots of good ones!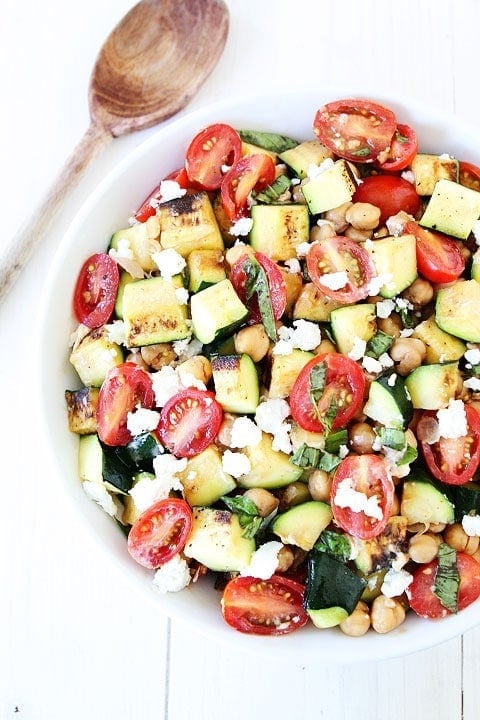 Grilled Zucchini, Chickpea, Tomato, and Goat Cheese Salad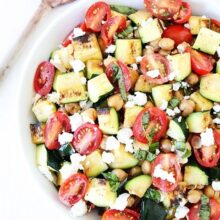 This simple summer salad is perfect for using up your garden produce!
Yield: Serves 6
Prep Time: 10 minutes
Cook Time: 10 minutes
Total Time: 20 minutes
Ingredients:
4 small zucchini, cut in half lengthwise
2 tablespoons olive oil, divided
2 cups grape tomatoes, halved
1 (15 oz) can chickpeas, rinsed and drained
2 tablespoons balsamic vinegar
1/3 cup chopped basil
3 oz crumbled goat cheese
Salt and black pepper, to taste
Directions:
Preheat grill to medium high-heat. Brush zucchini with 1 tablespoon of the olive oil. Season with salt and pepper, to taste. Place zucchini on hot grill and cook until charred and just beginning to soften, about 7-10 minutes. Remove from grill and let cool to room temperature. When the zucchini is cool, chop into pieces.
In a large bowl, combined chopped zucchini, tomatoes, chickpeas, the remaining olive oil, and balsamic vinegar. Toss. Add the basil and goat cheese. Gently stir and season with salt and black pepper, to taste. Serve.
All images and text ©
.
Follow twopeasandpod on Instagram and show us what recipes you are making from our blog! Use the hashtag #twopeasandtheirpod! We want to see what you are making in your kitchen!