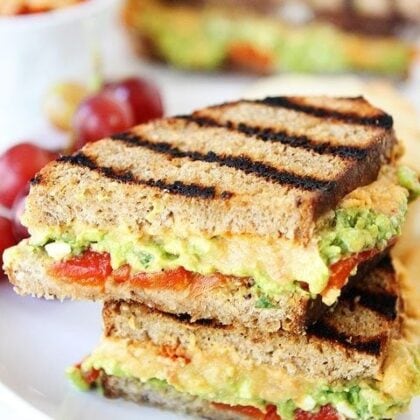 Print Recipe
Roasted Red Pepper Hummus, Avocado, & Feta Sandwich
Recipe from Two Peas and Their Pod
This vegetarian sandwich has all of my favorite flavors-roasted red peppers, hummus, avocado, and feta cheese! It's easy to make and great for a quick lunch or dinner!
1. Spread the bread slices evenly with roasted red pepper hummus. Set aside.

2. In a small bowl, combine avocado and feta cheese. Mash with a fork. Add the lemon juice, basil, salt, and pepper.

3. Spread the avocado feta mixture over the red pepper hummus. Top with roasted red peppers, on two slices of the bread. Place other pieces of bread on top to form a sandwich.

4. Brush the outside pieces of bread with olive oil or butter and place on a hot grill or hot pan. Grill each side until toasted, about 2-3 minutes. Serve immediately.

Note-you can serve the sandwich cold, without grilling it. It is just as tasty! For gluten-free, use gluten-free bread.