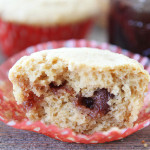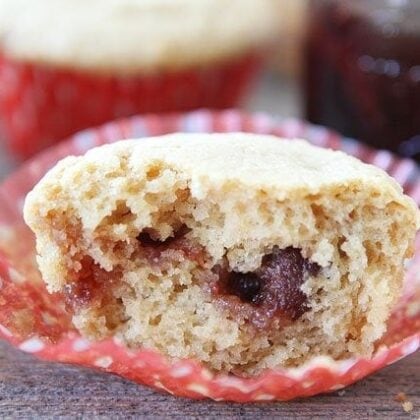 Print Recipe
Peanut Butter and Jelly Muffins
Recipe from Two Peas and Their Pod
Peanut butter muffins with a dollop of jam in the center. If you are a PB&J fan, you will love these muffins!
1. Preheat the oven to 350 degrees F. Spray 12 muffin cups with nonstick cooking spray or line with paper cups.

2. In a medium bowl, whisk together the milk, peanut butter, oil, egg, and vanilla. Stir the wet ingredients into the dry ingredients and mix just until combined.

3. Scoop about 2 tablespoons of batter into each muffin cup. Spoon a heaping teaspoonful of jam on top of each cupful of batter. Then spoon about 2 tablespoons of batter over the jam. Divide any remaining batter equally among the muffin cups.

4. Bake for 20 to 25 minutes, or until the muffins have risen in the middle and are firm to the touch.