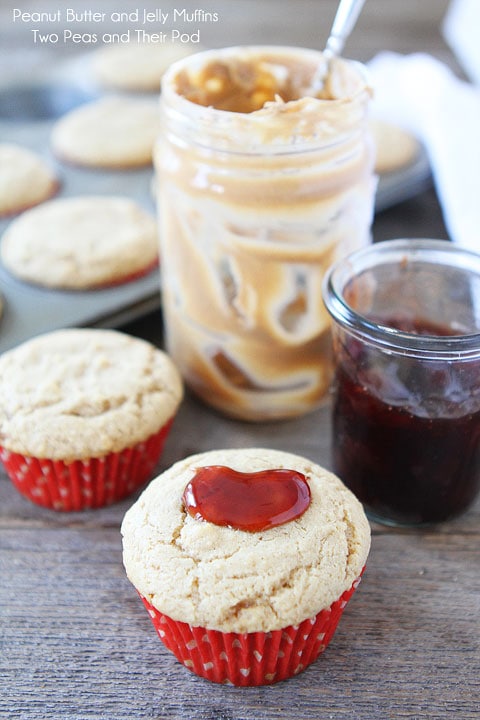 Peanut, peanut butter…and JELLY! Is that a real song or is it just one I made up in my head? I am not sure, but it has a nice tune:) I am very excited about today's recipe-Peanut Butter and Jelly Muffins. The recipe comes from my good friend Lori's new cookbook, The Recipe Girl Cookbook.
You can't beat a classic PB and J sandwich. Whenever I am feeling lazy or just in the mood for some good comfort food, I always turn to PB and J. Whole wheat bread, creamy peanut butter, and strawberry jam for me please! It always hits the spot.
When I saw Lori's recipe for Peanut Butter and Jelly Muffins, I knew I had to try them. I've made a Peanut Butter and Jelly Coffee Cake before and it's a favorite. I knew I would love the muffins! You can't go wrong with the traditional peanut butter and jelly combo, especially in cute muffin form.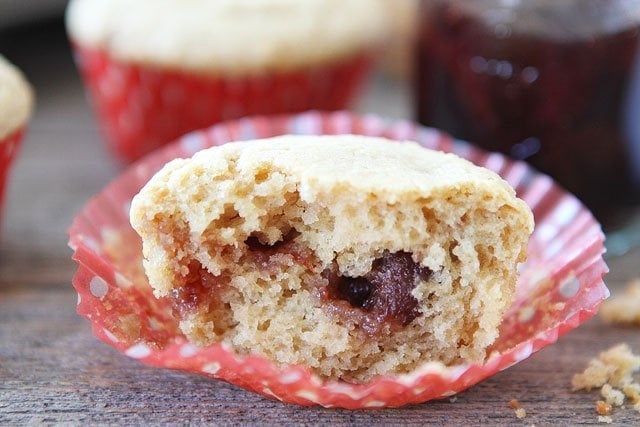 The muffins are super simple to whip up. I bet you have all of the ingredients in your kitchen right now! Lori recommends using creamy peanut butter for this recipe. If you use a natural-style peanut butter, just make sure the oils are present to create a moist and tender muffin. I used Trader Joe's creamy peanut butter. It's my favorite!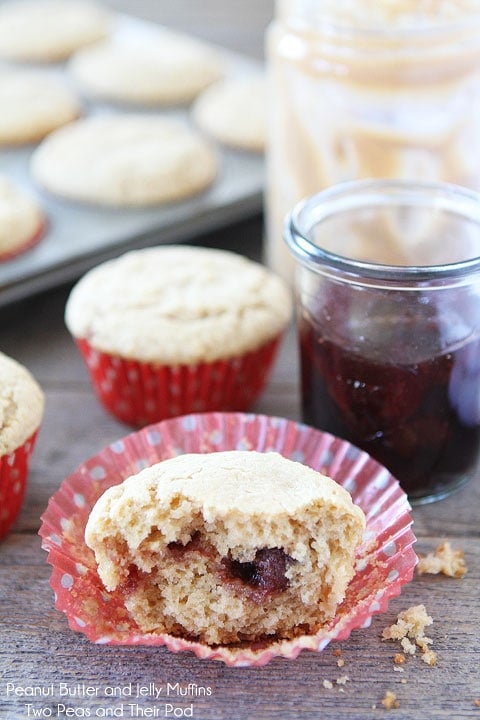 I used strawberry jam for the filling because we had an open jar in the fridge and it's my fave. You can change it up by using whatever jam you like-grape, blackberry, or raspberry would be tasty too!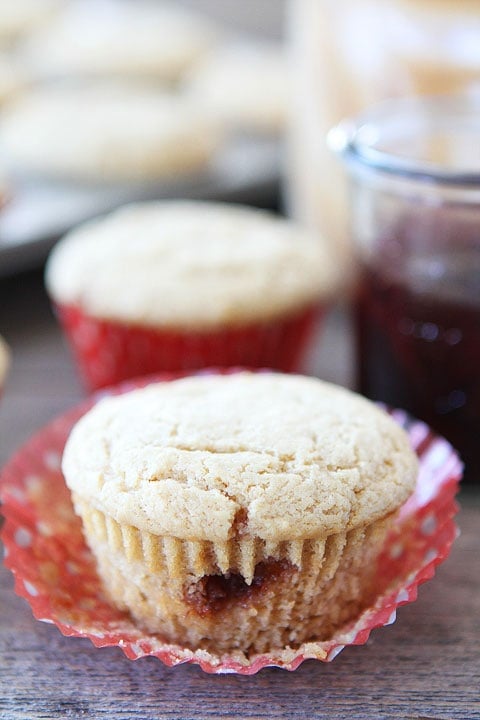 Peanut Butter and Jelly Muffins are great for breakfast or snack time. I bet the kiddos would love these muffins as an after school snack. You can make them for them or let them get in on the action. This recipe is a fun one for kids because it's easy and what kid doesn't like PB&J?
The next time I am craving PB&J sandwich, I might reach for a Peanut Butter and Jelly Muffin instead. Love these muffins!
Make sure you check out The Recipe Girl Cookbook. It is filled with family-friendly recipes that are easy to follow. There are also 20 themed party menus that will help make your dinner parties delicious and fun! There are so many recipes we want to try! Congrats Lori!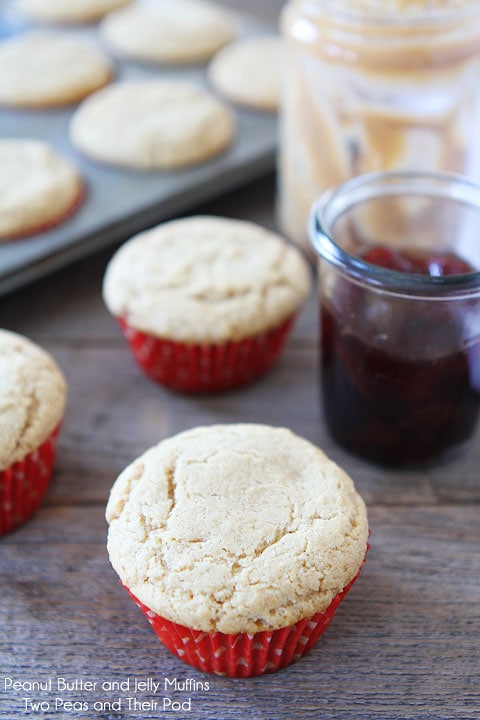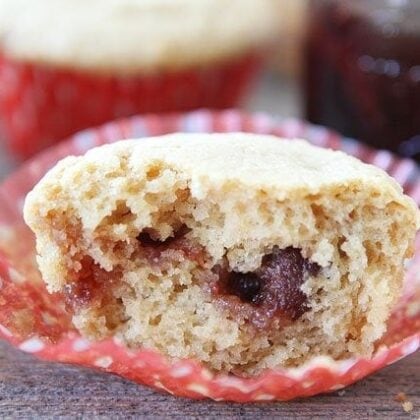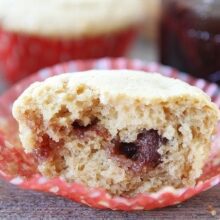 Peanut Butter and Jelly Muffins
Peanut butter muffins with a dollop of jam in the center. If you are a PB&J fan, you will love these muffins!
Instructions
1. Preheat the oven to 350 degrees F. Spray 12 muffin cups with nonstick cooking spray or line with paper cups.

2. In a medium bowl, whisk together the milk, peanut butter, oil, egg, and vanilla. Stir the wet ingredients into the dry ingredients and mix just until combined.

3. Scoop about 2 tablespoons of batter into each muffin cup. Spoon a heaping teaspoonful of jam on top of each cupful of batter. Then spoon about 2 tablespoons of batter over the jam. Divide any remaining batter equally among the muffin cups.

4. Bake for 20 to 25 minutes, or until the muffins have risen in the middle and are firm to the touch.
Have you tried this recipe?
Leave a comment below and share a photo on Instagram. Tag @twopeasandpod and hashtag it with #twopeasandtheirpod