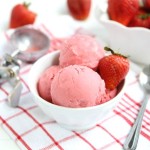 Print Recipe
Strawberry Frozen Yogurt
Recipe from Two Peas and Their Pod
Easy strawberry frozen yogurt made with only 4 ingredients-strawberries, sugar, Greek yogurt, and lemon juice!
Place the sliced strawberries in large bowl with the sugar. Stir until sugar begins to dissolve. Cover with plastic wrap and let stand at room temperature for 1 hour.

Place the strawberries in a blender or food processor. Add the yogurt and fresh lemon juice. Pulse until strawberries are smooth.

Chill mixture for at least 1 hour, then freeze in your ice cream maker according to the manufacturer's instructions.