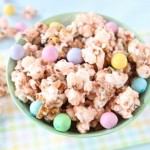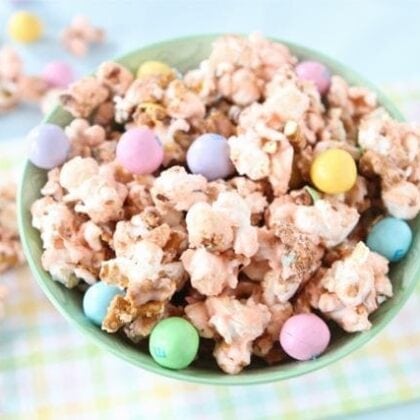 Print Recipe
Salted Caramel Easter Popcorn
Recipe from Two Peas and Their Pod
This sweet and salty popcorn treat is perfect for Easter and spring time snacking!
6

cups

plain popped popcorn

2

cups

coarsely chopped salted pretzels

1

cup

granulated sugar

1/2

teaspoon

sea salt

plus more for sprinkling

1/4

cup

water

1/3

cup

heavy cream

1/2

teaspoon

vanilla extract

1

cup

miniature marshmallows

Drop of red food coloring-if you want to make the popcorn pink for Easter

1 1/2

cups

Easter Pretzel M&M's
In a large bowl, combine popcorn and pretzels. Set aside. In a medium saucepan, bring sugar, 1/2 teaspoon salt, and water to a boil over medium high heat. Boil, undisturbed, until mixture is amber in color, for about 8-12 minutes. Remove pan from heat and slowly pour in the heavy cream. Be careful because the mixture will bubble up. Stir until smooth and add vanilla extract, marshmallows, and drop of red food coloring-if using. Stir until marshmallows are melted and mixture is smooth.

Pour caramel mixture over popcorn and pretzels and gently stir with a rubber spatula until popcorn is well coated. Stir in the pretzel M&M's. Transfer mixture to a large baking sheet and sprinkle with sea salt. Let cool completely.

Note-I used air popped popcorn, but stove or microwave popcorn will work as well. I used red food coloring to make the popcorn pink for Easter. I also used Easter Pretzel M&M's. You can always change up the color or leave the popcorn plain. And feel free to stir in your favorite M&M's or other Easter candy. Robin Eggs or Mini Cadbury Eggs would be good too!