Print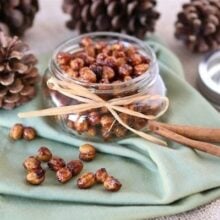 Honey Cinnamon Roasted Chickpeas
Sweet and crunchy Honey Cinnamon Roasted Chickpeas make a great healthy snack. They are simple to make and will remind you of your favorite roasted cinnamon nuts. They also make a great gift during the holiday season.
Servings
2
cups roasted chickpeas
1. Preheat oven to 375 degrees F.

2. Drain chickpeas (garbanzo beans) and rinse them under cold water until starch is removed. Place chickpeas on a paper towel to dry. You can peel of the skins if you wish.

3. In a small bowl, whisk together the oil, cinnamon, and sugar. Place chickpeas in bowl and stir until all of the chickpeas are evenly coated. Spread out the chickpeas on a large baking sheet and bake for 35-40 minutes, or until chickpeas are crunchy and no longer soft in the middle.

4. Place hot, roasted chickpeas in a small bowl and coat evenly with honey. Spread chickpeas back out on baking sheet and allow to dry. Store in an airtight container at room temperature.

Note: This recipe can easily be doubled or tripled.