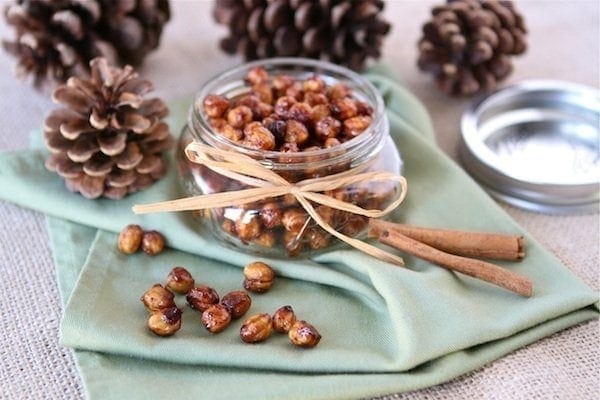 I've shared two indulgent holiday cookies this week, Chocolate Chip Peppermint Crunch Cookies and Red Velvet Cheesecake Cookies. I figured it was time to share a healthier holiday treat-Honey Cinnamon Roasted Chickpeas. If you haven't tried roasted chickpeas, you are missing out. They are easy to make and one of my favorite snacks. You can season them in a variety of ways, but these Honey Cinnamon Roasted Chickpeas are perfect for the holiday season.
If you are a fan of the cinnamon roasted almonds that are commonly served in shopping malls, you will love these roasted chickpeas. They have the same flavor. I've made Cinnamon Roasted Almonds before, but since Josh is allergic to nuts, he couldn't taste them. These Honey Cinnamon Roasted Chickpeas are a great alternative for those who are allergic to nuts.
I love that this recipe only has five ingredients. I bet you have everything in your pantry to make them right now. They are simple to make and will make your house smell amazing! The chickpeas are crunchy, sweet, and highly addictive. Make a double or triple batch if you plan on sharing:)
Honey Cinnamon Roasted Chickpeas are a great healthy snack-perfect for munching on while you watch your favorite Christmas movies. They also make a great gift. Place them in a mason jar, festive box or bag and give them out to your family and friends this year. Everyone will appreciate a healthier treat during this sugar overloaded month.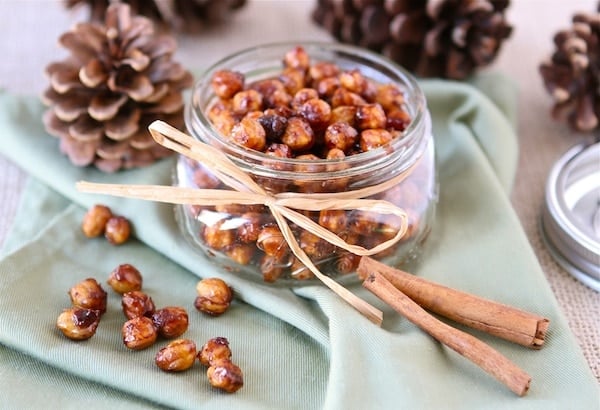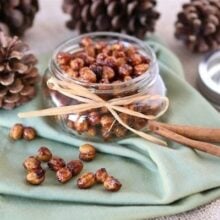 Honey Cinnamon Roasted Chickpeas
Sweet and crunchy Honey Cinnamon Roasted Chickpeas make a great healthy snack. They are simple to make and will remind you of your favorite roasted cinnamon nuts. They also make a great gift during the holiday season.
Instructions
1. Preheat oven to 375 degrees F.

2. Drain chickpeas (garbanzo beans) and rinse them under cold water until starch is removed. Place chickpeas on a paper towel to dry. You can peel of the skins if you wish.

3. In a small bowl, whisk together the oil, cinnamon, and sugar. Place chickpeas in bowl and stir until all of the chickpeas are evenly coated. Spread out the chickpeas on a large baking sheet and bake for 35-40 minutes, or until chickpeas are crunchy and no longer soft in the middle.

4. Place hot, roasted chickpeas in a small bowl and coat evenly with honey. Spread chickpeas back out on baking sheet and allow to dry. Store in an airtight container at room temperature.

Note: This recipe can easily be doubled or tripled.
Have you tried this recipe?
Leave a comment below and share a photo on Instagram. Tag @twopeasandpod and hashtag it with #twopeasandtheirpod
If you like these Honey Cinnamon Roasted Chickpeas, you might also like: