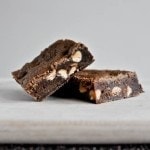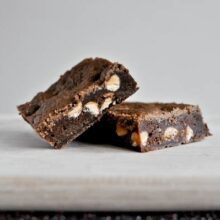 Print Recipe
Chocolate Peanut Butter Cookie Bars
Recipe from Two Peas and Their Pod
Preheat oven to 325.

Cream butter, peanut butter, sugar, eggs and vanilla until fluffy, about 3 minutes. Add flour, cocoa powder, baking soda and salt and mix until just combined.

Fold in peanut butter chips. Spread dough in a 9 x 13 baking dish sprayed with non-stick spray. Other sizes will work as well - they will just determine the thickness and cooking length of the bars.

Bake at 325 for 25-30 minutes. If bars are not done (due to using a different sized dish), bake for 5-6 minute increments. Let cool completely before slicing.