Print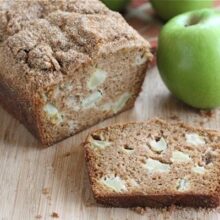 Apple Cinnamon Bread
This cinnamon quick bread has big chunks of apples inside and a sweet cinnamon sugar topping.
Topping:
2

tablespoons

brown sugar

1

tablespoon

sugar

1

teaspoon

cinnamon
Preheat the oven to 350 degrees F. Spray an 8 by 4 loaf pan with cooking spray and set aside.

In a medium bowl, whisk together flour, baking soda, salt, cinnamon, all spice, and cloves. Set aside.

In the bowl of a stand mixer, add the eggs and beat on medium speed for about 30 seconds. Add in oil, applesauce, and vanilla and mix until smooth. Next, add the sugar and mix until well combined.

Slowly add in the flour mixture and mix until flour is barely combined. Gently fold in the apple chunks. Pour batter into prepared loaf pan.

In a small bowl, mix together brown sugar, sugar, and cinnamon. Sprinkle over the batter in the loaf pan. Bake for 50-55 minutes, or until loaf is golden and a toothpick comes out clean.

Cool bread in pan for 10 minutes. Loosen sides and remove from pan. Cool completely on a wire rack before slicing.