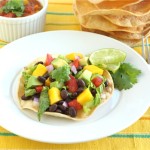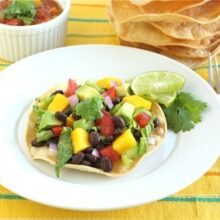 Print Recipe
Black Bean and Mango Tostadas
Recipe from Two Peas and Their Pod
These easy tostadas are a family favorite dinner!
1. Turn the broiler on high. Spray corn tortillas with cooking spray and sprinkle with salt. Place on a baking sheet. Put corn tortillas in the oven until crispy, about five-seven minutes. Flip them once to make sure each side is crispy.

2. Top corn tortillas with black beans, mango chunks, onion, tomatoes, cilantro, lettuce, and avocado. Dress with fresh lime juice and salsa.