jump to recipe
Restaurant Style Salsa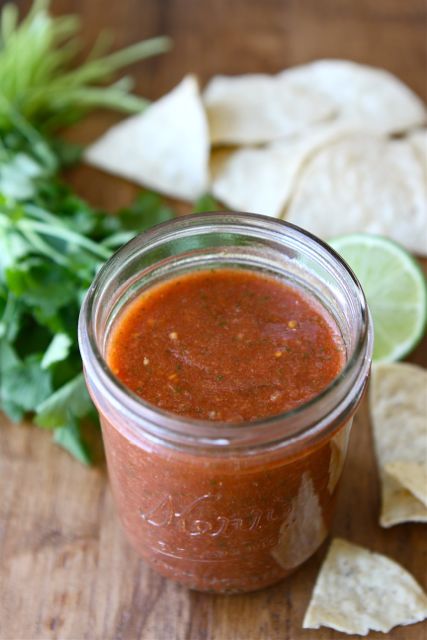 Today is an exciting day! Ree's (The Pioneer Woman) NEW cookbook comes out today! I am so excited for Ree and her latest book, The Pioneer Woman Cooks: Food From My Frontier. Ree sent us an advanced copy and we have been loving and drooling over every page. And I am not joking about the drooling part, Caleb has drooled on several pages of the book. I think he is ready for solid food, well at least Ree's cooking:) To celebrate The Pioneer Woman's new book we made her Restaurant Style Salsa. We are huge chips and salsa fans and Ree's salsa is the real deal.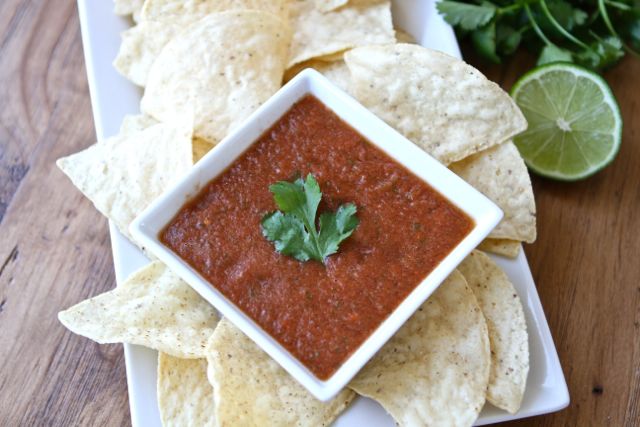 What is the best part of going out to a Mexican restaurant? The chips and salsa, right? I always fill up on chips and salsa and have a hard time eating my meal. You think I would learn, but it happens every time. The truth is, I really don't care, because I LOVE chips and salsa! Ree's Restaurant Style Salsa tastes just like the kind of salsa you get at a Mexican restaurant, but better. It is absolutely perfect! The salsa is smooth, fresh, has the perfect amount of cilantro and lime, and a nice kick at the end.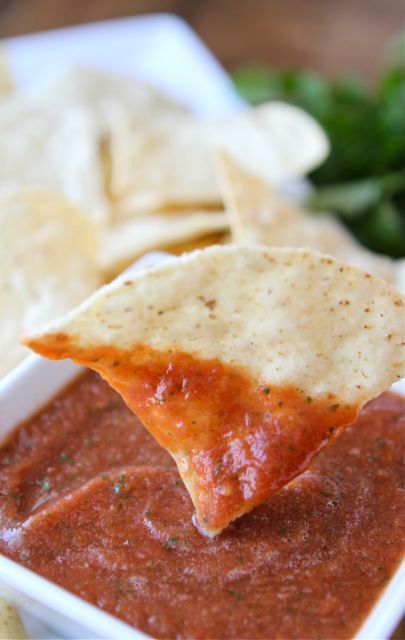 OTHER RECIPES
The recipe is super easy to make. You blend everything together in a blender or food processor. We used our Blendtec blender and it filled it to the top, so make sure you use a large blender or food processor. I thought we were going to have way too much salsa, but it didn't last long. It is addicting! I am so glad we don't have to go out to a Mexican restaurant to get our salsa fix anymore. We will save money and I can eat in my stretchy pants-trust me, you will need them after eating an entire bag of chips and bowl of salsa. 🙂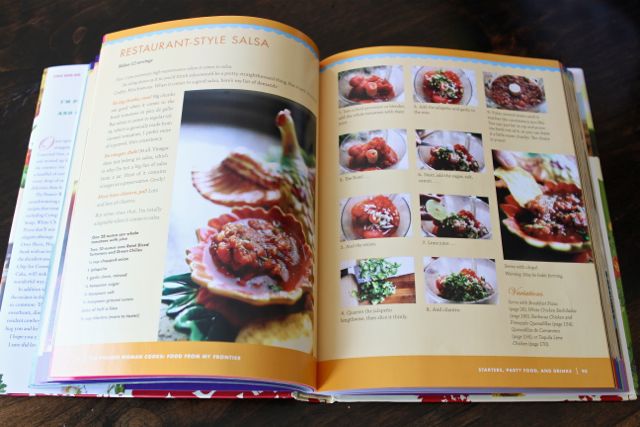 You can find Ree's Restaurant Style Salsa recipe in The Pioneer Woman Cooks: Food From My Frontier, along with lots and lots of other delicious recipes. We can't wait to cook and bake our way through the book. And in Ree fashion, every recipe includes gorgeous step-by-step photos! The book is a complete gem from cover to cover. Congratulations Ree on your new book!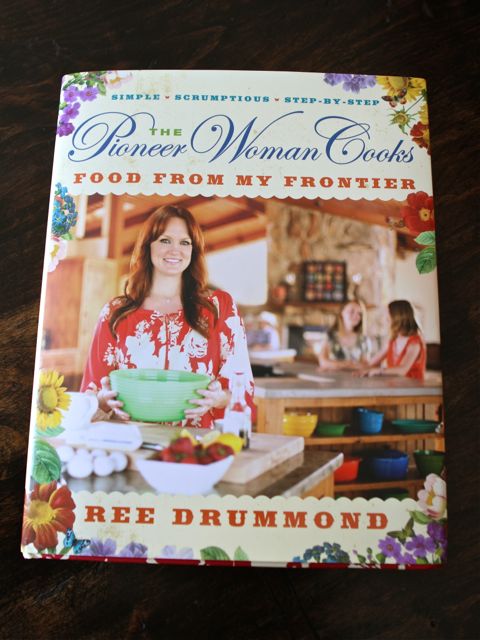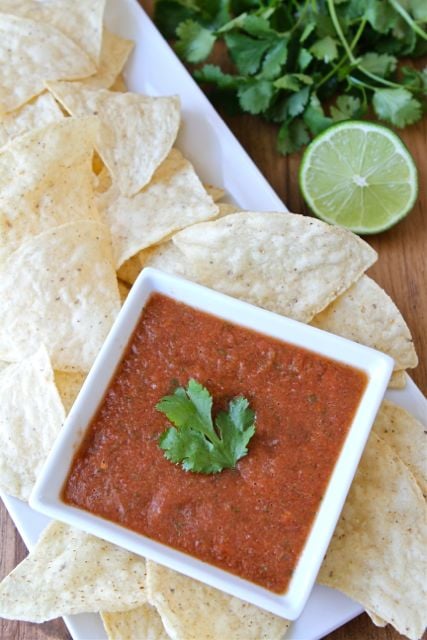 Restaurant Style Salsa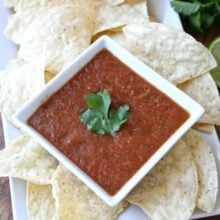 Homemade restaurant style salsa that will MAKE you eat an entire bag of chips. It's that good!
Yield: Serves 12
Prep Time: 10 minutes
Ingredients:
1 can (28 Ounce) whole tomatoes with juice
2 cans (10 Ounce) Rotel (diced tomatoes And green chilies)
1/4 cup chopped onion
1 clove garlic, minced
1 whole jalapeño, quartered And sliced thin
1/4 teaspoon sugar
1/4 teaspoon salt
1/4 teaspoon ground cumin
1/2 cup fresh cilantro (more To taste)
1/2 whole lime, juiced
Directions:
In a large food processor or blender, combine whole tomatoes, Rotel tomatoes, onion, jalapeno, garlic, sugar, salt, cumin, lime juice, and cilantro. Pulse until you get the salsa to the consistency you'd like. Taste and adjust seasonings, if necessary.
Refrigerate salsa for at least an hour. Serve with tortilla chips.
Recipe from The Pioneer Woman Cooks: Food From My Frontier by Ree Drummond
All images and text © .
Follow twopeasandpod on Instagram and show us what recipes you are making from our blog! Use the hashtag #twopeasandtheirpod! We want to see what you are making in your kitchen!