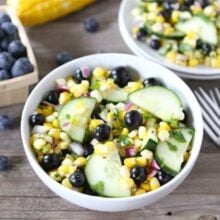 Blueberry Corn Salad
Simple summer salad with blueberries, sweet corn, cucumbers, cilantro, jalapeño, red onion, and a honey lime dressing.
In a large pot, bring water to boiling. Add corn. Cook for 5 minutes, or until tender. When cool enough to handle, cut corn from the cobs. Discard cobs.

In a large serving bowl, combine corn, blueberries, cucumber, red onion, cilantro, and jalapeno. To make the dressing, whisk together lime juice, oil, honey, cumin, salt, and pepper. Pour dressing over salad and stir until combined. Cover and refrigerate until ready to serve.

Note-you can make this salad a day in advance. It keeps well.