Blueberry Corn Salad
Fresh Corn Salad – this salad is light and refreshing, with a juicy pop of blueberry, cucumber crunch, and tons of flavor from cilantro, jalapeño, red onion, and honey lime dressing. Easy-to-make in advance or day of, this corn salad is perfect for summer parties.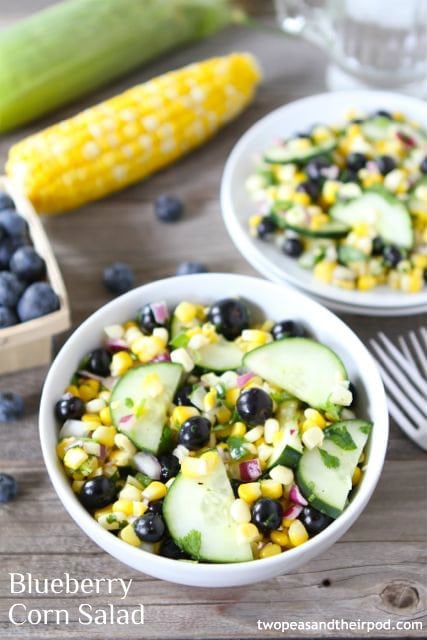 Lazy Days and Summer Salads
The weather is perfect in Salt Lake City right now, which makes me want to lay on a blanket in the grass and do nothing else. Too bad my "to do" list is a mile long. I am behind after being in Seattle last week for BlogHer Food. I'm not complaining because Seattle was totally worth it, but that blanket in the sun is still calling my name:)
I finally made it to the store yesterday. We had no food in our house when we got home from Seattle. I picked up blueberries because they were on sale and sweet corn because it looked good. I made one of my favorite summer salads for dinner – Blueberry Corn Salad. It hit the spot!

OTHER RECIPES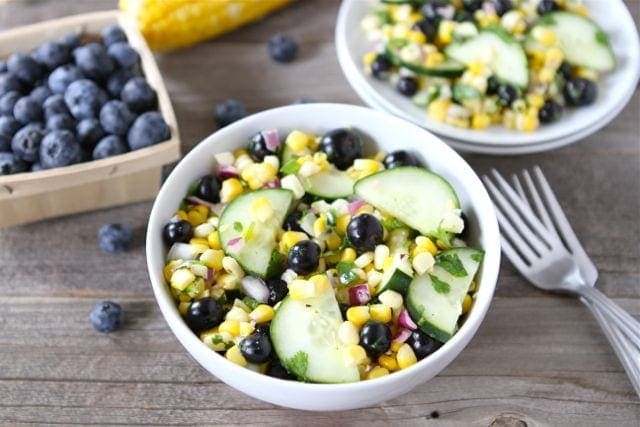 Fresh Corn Salad
This salad is light and refreshing. I love the pop of color and juiciness the blueberries add to the corn salad. The cucumbers also add a nice crunch. This fresh corn salad is full of flavor thanks to the cilantro, jalapeño, red onion, and honey lime dressing.
We have some of this corn salad leftover from dinner so I might sneak outside and lay on that blanket with a bowl of my special blueberry Corn Salad. Sounds like a great lunch to me. And I know Caleb will appreciate being outside.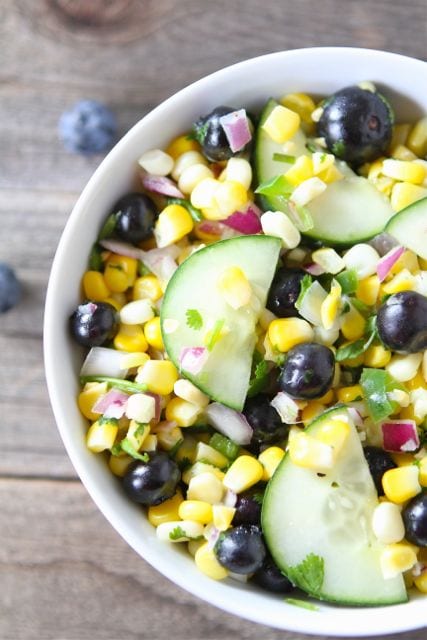 Celebrate summer by making this Blueberry Corn Salad. It is simple to make and it can be made in advance which makes it perfect for summer bbq's, picnics, and pool parties.
Blueberry Corn Salad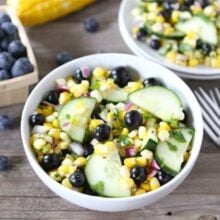 Simple summer salad with blueberries, sweet corn, cucumbers, cilantro, jalapeño, red onion, and a honey lime dressing.
Ingredients:
6 ears fresh sweet corn, husked
1 cup fresh blueberries
1 cucumber, sliced
1/4 cup finely chopped red onion
1/4 cup chopped fresh cilantro
1 jalapeno pepper, seeded and finely chopped
2 tablespoons lime juice
2 tablespoons olive oil
1 tablespoon honey
1/2 teaspoon ground cumin
1/2 teaspoon salt
1/4 teaspoon black pepper
Directions:
In a large pot, bring water to boiling. Add corn. Cook for 5 minutes, or until tender. When cool enough to handle, cut corn from the cobs. Discard cobs.
In a large serving bowl, combine corn, blueberries, cucumber, red onion, cilantro, and jalapeno. To make the dressing, whisk together lime juice, oil, honey, cumin, salt, and pepper. Pour dressing over salad and stir until combined. Cover and refrigerate until ready to serve.
Note-you can make this salad a day in advance. It keeps well.
Recipe adapted from Better Homes and Garden
All images and text © .
Follow twopeasandpod on Instagram and show us what recipes you are making from our blog! Use the hashtag #twopeasandtheirpod! We want to see what you are making in your kitchen!
If you like this Blueberry Corn Salad, you might also like: