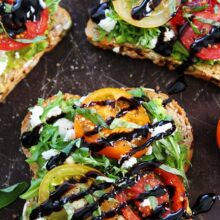 Avocado, Tomato, and Goat Cheese Toast
This is the perfect avocado toast for summertime or anytime! It is great for breakfast, lunch, or dinner.
Cut the avocados in half, remove pit, and scoop the flesh into a small bowl. Add the lemon juice, sea salt, and black pepper, to taste. With a fork, mash the ingredients together, keeping the texture slightly chunky.

Spread the mashed avocado evenly onto toasted bread slices. Top with arugula and tomato slices. Crumble the goat cheese over the top and sprinkle with fresh basil. Season with additional salt and pepper, if desired. Drizzle with balsamic glaze and serve immediately.

Note-If you need the recipe to be gluten-free, use gluten-free bread. I like to use different colored tomatoes, but any variety will work.